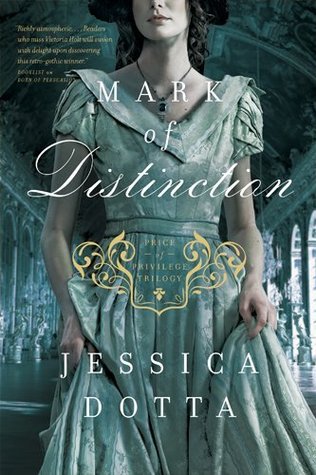 What it's about:
(from publisher Tyndale House)
London is said to be the glittering jewel of society, a world unto itself—but to Julia Elliston it is a city of shadows. Her life is swiftly dissolving into scandal. And in Victorian society, even a whisper of scandal—substantiated or not—can be the death of a young woman's reputation.
Now under the watchful eye of Lord Roy Pierson, one of most influential men in England, Julia begrudgingly accepts his protection. But Chance Macy's power is far-reaching as well, and he is eager to assert his claim over her.
Thrust into society as the Emerald Heiress, Julia is the toast of London, a celebrated curiosity. But in reality she's trapped between the clutches of two powerful men. Aided only by a gentleman whose intentions she prays she can trust, Julia must finally take control of her own fate—but outwitting one's foe rarely goes according to plan.
Why you should read it:
I'm not sure I've ever read a main character like Dotta's Julia. This first-person protagonist is fairly self-centered and quite unlikable at times, but I cannot help but empathize and root for her, even when she behaves callously and treats the few who do actually have her best interests at heart with too shallow a regard. In all honesty, Julia is a stubborn little fool through most of this book, but her magnetism toward danger, especially when that danger is personified in Mr. Macy, draws me into it right along with her.
Chance Macy is the most complex, tantalizing villain I've come across in a long while. There is no doubt Mr. Macy is a devil, but he is Lucifer drizzled with caramel sauce. And even though Julia knows he is evil, he is also tempting and powerful. In his presence, rational thought is nearly impossible.
Julia experiences a brief but poignant spiritual breakthrough that seems to herald the end of her selfishness and the beginnings of maturity. Sadly, the sweetness of that scene made Julia's bliss in the final pages of the novel difficult for me to swallow. Not only could I not be happy for her having achieved a desire of her heart, I felt Julia's version of a "happy ever after" betrayed me as a reader.
Perhaps I allowed myself to become too invested in the story. Or perhaps my emotional investment was the author's intent, considering there is another volume yet to come in Julia's tale. Either way, you can be sure I'll be reading book three, Price of Privilege, as soon as possible. Jessica Dotta is a phenomenal writing talent and her evocative prose draws readers in with uniquely layered characters and rich intrigues that leave you gasping and begging for more, even when what you just got made you really, really mad. So even though I was disappointed at the turn the story took at the end of book two, I am clinging to the hope that Julia's character — and the heart of a certain someone to whom I became very attached in this novel — will be redeemed in a true and lovely way.
But, dang. It isn't going to be easy.
Then again, the best stories never are.