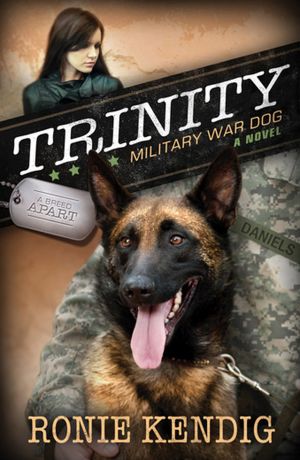 Trinity
is the first novel in Ronie Kendig's A Breed Apart, her new series about military dogs and their handlers. I loved this book, as you can probably tell from
MY INTERVIEW
with Ronie, which I did a few months ago. Here's the sitch, as it appears in the book description at www.amazon.com (image from www.barnesandnoble.com):
A year ago in Afghanistan, Green Beret Heath Daniel's career was destroyed. Along with his faith. Now he and his military war dog, Trinity, train other dogs and their handlers. Though his passion is to be back in action, the medical discharge has forced Heath—and Trinity—to the sidelines. Military intelligence officer Darci Kintz is captured while secretly tracking the Taliban. Only one dog can handle the extreme conditions to save her. Trinity. Only one man can handle Trinity. Time is running out on the greatest—and most dangerous—mission of their lives.
Sounds good, right?
I'm a dog lover to the point of being goofy. And yes, I enjoyed this novel and easily fell in love with Trinity (and, uh, maybe Heath, her handler, too. Yum.) But I didn't appreciate their story with the sort of depth I should have until recently. At an event I attended, I unexpectedly had the pleasure of meeting a Gulf War vet and her dog. Over dinner one night, I heard her story and realized that sitting right before me was one of those "discarded heroes" Ronie Kendig writes about.
Suddenly,
Trinity
meant so much more to me than just another great book I'd discovered. In that instant, my respect for Ronie and her calling to honor our heroes through fiction really grew. In fact, the next morning I emailed Ronie and shared my experience. And, gracious lady that she is, she shared my tears.
I'd been touched by Ronie's stories in the past, but they remained fiction to me; those more emotional aspects of her characters' struggles compartmentalized into the "what a good story" part of my brain--but they never quite leaked across into my experience. After all, I never served in the military and, other than my dad serving in The National Guard in the early 70s, I don't have any close family members who've lived the military life. But to meet this lovely woman and her dog in person, to hear her story and her ongoing battle with PTSD (post traumatic stress disorder) after serving in the Middle East, and to learn how the American government has pretty much abandoned her after she gave them years of service in a very dangerous time and place, touched me at my core.
I've "supported our military" in those apple-pie, acceptably distanced ways since I was a senior in high school and President Bush (the 1st) announced Operation Desert Storm. But after all these years, it finally became real to me because of a discarded hero and her dog and... Trinity: Military War dog. I certainly will never read one of Ronie's books the same way again.
If you haven't read one of Ronie's books yet, check out
her website
,
my interview
, and, of course, TRINITY. You won't regret it. Also on
her website are various organizations who serve our military personnel (including the dogs.)
Contemporary and full of action and romance, Ronie's "rapid fire fiction" is sure to get your pulse pounding and your imagination engaged... as well as your heart.
And while you're at it, say a prayer for our discarded heroes and pray, also, that whoever is elected in a couple of weeks takes these heroes' struggles to heart and comes to believe that our military personnel deserve better when they get home than what they're getting.