Welcome to Part 2 of my (unabridged) interview with the fascinating Pamela Binnings Ewen!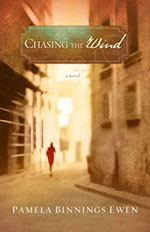 Serena: Chasing the Wind is equal parts legal thriller, women's fiction, and romance, yet you don't glamorize a young female associate's busy-work responsibilities in making that big deal come through. Are you ever irritated or amused by the way young attorneys are portrayed in books or on film?
Pamela: Not really. I'm so used to those shark and lawyer jokes that anything else looks good.
Serena: I'd never heard of "D.B. Cooper", the 1971 airline hijacker (who may or may not be a character in your novel) who was never apprehended, until I read your book. Of course, I wasn't born until a year after that hijacking took place! When did this historical mystery first capture your attention?
Pamela: Whew! The D.B. Cooper story caught my attention right out of the box. People just went crazy. One rainy night in 1971 when the moon was on the wane and the sky was unusually dark, a man who called himself D.B. Cooper hijacked a Northwest Orient Flight out of Portland Oregon on Thanksgiving eve. It was a Boeing 727 jet. Ten minutes into the flight he announced that he had a bomb. Ransom demanded: $200,000 and parachutes. The plane landed and he released the passengers, who later said he seemed very nice, but he kept the crew. When the money arrived with the parachutes, the plane took off. He apparently knew what he was doing. At 10,000 feet—which he'd required—he jumped, money and all, and has never been seen since. He should have died, experts said, but there's no evidence of that. What a story. FBI, local police, and thousands of people combed the woods where they thought he'd have landed, but he was gone. For a long time there were D.B. Cooper parties held on Thanksgiving eve around the country. Several Cooper sightings have been reported over the years—false alarms. Someone claimed to have unraveled the mystery just a few months ago and it was in the news, but turned out to be wrong. Now D.B. Cooper has reached legend status, so I had lots of fun with that in the story.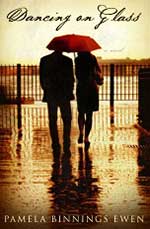 Serena: All the while Amalise is doing research I was thinking, "How did we survive before Google searches?" In your 25 years as an attorney, what was the best improvement you saw, technologically, to the area of legal research? And how has that transferred over to your new profession now that you're writing full time?
Pamela: Here's the way it was in the 1970's and early 1980's: You are a young associate. Say you're on a conference call with numerous people on the phone and an agreement is being negotiated and you're the one designated to get the revised draft out to the group as quickly as possible when the call is concluded, many hours later. You make notes on your copy as everyone talks, and other lawyers in the room with you do too. When the conference call is over hours later, you gather everyone's notes, harmonize them into one draft, then write the changes to be made by hand, sometimes having to cut and paste. This takes many hours. You then give this thing of beauty and joy forever to your justifiably irritable secretary, who types it. Back again and you proof this copy, and if, as there inevitably are in this system, corrections, you repeat the process again. When everything is fine, the typed draft goes next to proofreaders, who sit in a big office and manually underline each change in the revised agreement that you've created. Once you receive the final product, it then goes to 'reproduction'—which then, was a Xerox machine, and they made copies. Now. Say you have an agreement 100 pages long (not unusual) and fifteen people need to see the revised draft right away. That's 1,500 sheets of paper. You and your secretary get the copies back around one or two a.m., and then you check each set to make certain it's complete, staple them together, and call Federal Express. By the time Fed Ex arrives and picks up the packages—you don't go home until you're certain they are out—it's morning.
Here's the way it is today: You make notes on your computer while the conference call's going on. You do have to add notes from others in the room to your draft after the call is over. Once you type the changes on the computer draft, you activate the proof-reading application (tracking) and instantly the document blacklines the revisions, showing prior language too if you desire. You email this document to the distribution list on your computer, punch a button, and go home. Voila! About 15 hours saved, I'd say. And a lot of trees.
As for writing, I do all my work on a computer. My first book,
Faith on Trial
, was published in 1999, and at that time I was already using a PC. The research is another story though. I do a lot of research when I write, whether fiction or non-fiction. But I love the research, and even though Google research is just amazing and saves much time, I still go the library and look at old newspapers to get the feel of the time and place, and I do a lot of reading on the subject. But now-days, often I use Google.
Serena: A big theme in Chasing the Wind is the idea that "we are responsible not only for the things we do, but also for the things that we don't." If there was one call to action that might result from someone reading your novel, what would you hope it would be?
Pamela: We all have to make tough choices from time to time in life. But today we're constantly hit with barrages of bad news and frightening predictions, and sometimes it's not easy to see through the flack. But even with all of this, one person can sometimes change many lives by choosing to act. Listen to this story a friend told to me: She was watching a television show about an earthquake in Central America one morning. This was one of the big, national morning shows, years ago. A film clip showed children from an orphanage that had been damaged by the earthquake; they were playing outside in the rain. They were little and couldn't be cooped up in the cramped quarters all day, the reporter said. It was cold and the children were wrapped in blankets. But the reporter said the problem was the children had to sleep every night in these wet blankets. Miserable. So my friend called the show and asked if there was a fund set up for the children so she could contribute. The person answering the phone said no, that she was the only caller. But she gave the woman the name of a nun in charge of the orphanage and the address. The woman sent fifty dollars to the nun, and that was that. Except, three months later she received a letter. The nun thanked her and told her that the fifty dollars had been used to purchase a dryer! Now each child could sleep under a dry blanket at night.
Fifty dollars! So, you might not think your small act will matter, but as Amalise learned, sometimes it makes a big, big difference.
I believe that God moves us in these ways.
Serena: Your nonfiction book Faith on Trial was used as one of the texts for a course at Yale Law School in 2000. Do you foresee writing any more nonfiction, or have you found your "home" in fiction?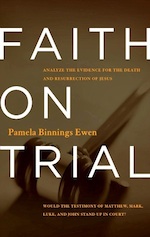 Pamela: A second edition of Faith on Trial will be issued in the fall of 2013 by my publisher, B&H Publishing Group. The new edition will contain a 'User's Guild' for readers who want to learn how to use the chain of proof process provided there. That book is my own statement of faith and it's now updated and complete. So, I think I'll stick to fiction from now on.
Serena: Now that your latest fictional baby is out in the world, what are you working on next?
Pamela: I'm working on a novel now that will be released in the fall of 2013 also. It continues the story begun in Dancing on Glass and Chasing the Wind, but this one focuses on Rebecca, Amalise's friend at the firm. This time we have come to the partnership question—they're competitors now, but still friends. And an explosive trial, and Rebecca's fight to achieve some balance in her life.
Serena: What sort of novels do you read for pleasure?
Pamela: I guess I'm all over the place on that one because I read all the time. Sometimes I read to learn; that's how I taught myself to write, with the old masters, the classics. Sometimes I just want to relax and I'll pick up a fast moving book that will keep me reading—something by Phillippa Gregory, Lee Childs, Michael Connelly, Jodi Picoult, Dee Henderson, or Erica Spindler. I think they're all great storytellers. I love funny books, too, like Confederacy of Dunces. Recently I've found several books that I really couldn't put down. The Shoemaker's Daughter, by Adriana Trigiani, The Postmistress, by Sarah Blake, and Rules of Civility, by Amor Towels (amazing this is her first novel!).
Serena: Is there anything else you'd like to share with our HEA readers?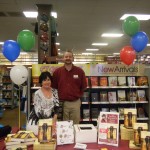 Pamela at a book signing in Augusta
(photo taken from her blog)
Pamela: Amalise Catoir is thrilled her book is out. She was tied in knots after that last scene with Phillip in Dancing on Glass, and wants me to ask everyone reading Chasing the Wind if they think she's earned that second chance. Sorry. I've tried talking to her, but she doesn't know she's not supposed to come out of the book and interrupt our discussion. But she's getting a little irritable now. Hold on a minute, please.
Serena? Amalise also wants me to tell everyone that she's out now, and wants to really dance. I suggested to her that if she just sticks to the area around Jackson Square that would be all right. A character stepping out of her book's a little unusual, but probably around here no one will even notice.
Portions of this interview first appeared at USA Today's Happy Ever After blog.
GIVEAWAY!!!
One lucky reader will win a copy of CHASING THE WIND. All you have to do is leave a comment on THIS post with your spam-free contact info (jane dot doe at jmail dot com)
! The w
inner will be selected using www.random.org. Contest is open to residents of the continental United States only (sorry. Going broke on postage, international folks.) and will run through October 15, 2012.