A couple of months back I interviewed Pamela Binnings Ewen for USA Today's Happy Ever After blog (the interview posted last week.) Her novel,
Chasing the Wind
, a romantic legal suspense novel, had just released and I really enjoyed it. It was something new. Smart. And entirely different from much of what I usually read. Mainly, because of the time in which it took place: the 1970s.
Pamela was so friendly, so open, and so thorough in her answers to my questions that I had to leave a lot of the really good stuff out in order to fit the interview into the HEA format. But I think a lot of EIR readers will find this author just as fascinating as I did and, therefore, I'm going to post that interview, unabridged, right here over the next couple of days. (If you want the short version, follow
THIS LINK
to what appeared at Happy Ever After.)
Additionally, I have a copy of her novel,
Chasing the Wind
, available to giveaway. So hang out with Pamela and me today and tomorrow and you'll get a chance to win this unusual, intriguing, well-written suspenseful legal romance for yourself!
Serena: The title of your novel, Chasing the Wind, refers to a common phrase in the Old Testament book of Ecclesiastes, believed to have been authored by King Solomon. Is there one particular character from this novel that you see particularly paralleled to this Biblical figure, or to the people to whom King Solomon is addressing?
Pamela:
The book of Ecclesiastes discusses the meaning of human life. The Teacher reflects on whether life is unsubstantial, something fleeting like a breath of wind and everything therefore is, in an eternal sense, meaningless. Amalise Catoir, a young woman lawyer in the mid-nineteen-seventies has come through and triumphed over a crisis in her own life, as told in Dancing on Glass. In this new book, Chasing the Wind, Amalise believes that she's been given a second chance to make her life count. She's a young, single woman who loves her work, practicing law, but at the same time she comes to recognizes that nothing that she's accomplished as a lawyer is lasting When she's gone, someone else will take her place at the firm—good lawyers come and go, contracts will terminate or be amended, money and success, but all the goals that she's set for herself will mean nothing after she's gone. But one choice that she has made in the past, that is, not to look away from someone else's pain—to react to what she knows is wrong—has consequences that are important in a sense that exceeds the limitations of her own fleeting goals. In Chasing the Wind, Amalise learns that no matter how big a problem appears, when you break it down to individual lives, one person who's willing to act beyond self-interest can make a difference. I believe that human beings are inherently good—our creator has made us good--but we've been given free choice and so we often mess things up. But the universal principle that drives Amalise's quest for meaning also seems to underlie heroic actions on a higher plane. That is, what makes a person give up the last seat in a lifeboat when there's no self-interest involved. Or what gave those first-responders courage to go into the Twin-Towers on 9-11 when the high odds were they'd never get out alive?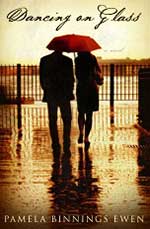 Serena: Chasing the Wind is a follow-up to Dancing on Glass, a novel in which Amelise Catoir, an intelligent, ambitious attorney in New Orleans, is swept away by the wrong sort of man. Why did you decide to continue Amalise's story in another book?
Pamela: I think the trap that Amalise fell into with Phillip Sharp is one that more women fall into than we know. It's always a secret. It's what I call the double-bind. These are women who are strong and independent, strong enough to attract a manipulative, needy man like Phillip. And yet, these are also women with compassion, unable to walk away from someone who desperately needs them, primarily on an emotional level. Amalise was caught in that double-bind, but, as I said earlier, she's come through the experience and has learned from it. That's what I wanted to convey in Chasing the Wind. But also, the story of Amalise and Jude just had to be told. Not to mention Luke. This book was so much fun to write, and I hope that readers will like it too.
Serena: Amalise refers to God as "Abba" and Jude trusts that "her Abba" will see her through. Why did you choose this particular name to refer to God throughout the novel?
Pamela: Amalise has a very personal relationship with God. But the word 'God' is a title or designation; it doesn't have the feeling of a name to Amalise. Abba means 'father', and that's how Amalise relates to him, and talks to him.
Serena: Like Amalise, you are an attorney. Do Amalise's struggles with the thick glass ceiling of the 1970s at all reflect things that you personally experienced on your way to partnership in a Houston law firm?
Pamela: I can't speak for anyone else, but I was so busy worrying about how to survive when I was a young lawyer back then—like Amalise's quandary of how do you ask a male client to lunch and pay for it, especially when you don't and never had had a credit card?-- that I didn't even think of issues like that. Here's the thing: I thought I'd died and gone to heaven when I found that someone would pay me so much money to do that work. I know that statement will irritate some women, but I loved practicing law. And the fact is that, by comparison, my first job was at an insurance company making $195.00 a month. I held a series of jobs like that before I could go to college. I worked my way through college, worked my way through law school, and by the time I passed the bar exam and began practicing law, there was nothing that was going to stop me. I do think that in general women in those days had a harder time then men not only because law was primarily a male world, but also because we had to compete on the basis of, among other things, the number of billable hours we could work, and most of the men had wives at home, who—as Jude might say—had their backs. Husbands are wonderful today—they're partners with their wives, whether the wives are working in the home or outside. But that wasn't the way things were in those days! So, women in law in the 70's and 80's had to take each problem as it came and solve it, and really, there wasn't time to worry about things like glass ceilings. We had to give those men time to get used to us. Life is what it is and you make of it what you will.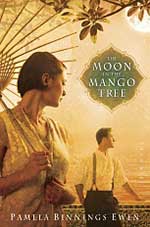 Serena: Something that really informs the character of Amalise is her compassion for those on the other side of the world, the orphans and refugees from Vietnam and Cambodia. When you began this thread in the first book, did you envision bringing it to completion in this way, or did Luke's part come about more organically as you put the second novel together?
Pamela: Luke was an integral part of the plot and he was on my mind from the beginning. The plight of those orphaned children in the war in Southeast Asia has haunted me. At the time that we, the United States, were leaving Vietnam, the Viet Cong were bearing down on the city. Our evacuations of both Saigon and the U.S. embassy in Phnom Penh, Cambodia, were nightmares vividly displayed on the television news each night. In Cambodia, the Khmer Rouge turned out to be completely, ruthlessly barbaric. There was something terrible and surreal about sitting before the television set here in the U.S. and watching the plight of those innocent children on the other side of the world, who—everyone believed—would be slaughtered. In the case of Cambodia, when the Khmer Rouge entered the city, looking for all the world like a troop of zombie children, a veil of silence fell over the country immediately, and what happened after that was hidden from the world for years. But we now know the plight of Cambodia was worse than we'd ever imagined; that even toddlers were worked to death in the killing fields. Luke was my way of heightening awareness not only about what happened back then, but also that it's still happening now in some parts of the world. And here's the main point that Luke and Amalise's relationship embodies: It may look to us that a problem is too big to solve, that it's too far away, and out of control, and there's that nothing we can do. But sometimes there is. Sometimes even the smallest action might result in one small salvation.
Serena: We get to see aspects of this story from several different points-of-view, but I have to ask: did Samantha, who was instrumental in getting tiny Luke out of Cambodia, live?
Pamela: Samantha survived and married Oliver, and they now have five children and live in a little house on a quiet beach in Kauai, Hawaii. Their marital bliss was completed however, when they read a book one day that told them what had happened to Luke.
Serena: I've never been to New Orleans, so I was surprised when your novel showed this city in such a different light than what I'd expect from a novel taking place there. Whereas many books and films focus solely on the French Quarter, rely on the mystery of the voodoo culture, or the wild nights of Mardi Gras to paint the town, you describe it in much more affection terms. Through Amalise's eyes, New Orleans is a gentle place of old oaks, strong families, big business, and beautiful history. When did you first fall in love with this city?
Pamela: I am so glad you asked this question. I've always loved New Orleans. My mother and father grew up and married here, and in fact my enormous family is spread all over South Louisiana and has been here for generations. We moved away when I was about four years old, and back when I was 18. So, even though I later practiced law in Houston for many years, I've always thought of New Orleans as home. And I'm back now.
The problem that I faced when I began folding the city into my stories was how to avoid the clichés. I mulled that over for a while and then just tossed the worry aside, because the fact is that these clichés' are that for a reason. Everyone loves the mossy oaks and the streetcars and the French Quarter and the eclectic characters and I do too. And the rich, mixed-up French and Spanish and American history of this city gives it a gloss, and depth. Anyway, I'd much rather write about the soft white petals of a lemon-scented magnolia than some old voodoo trick. People here have minds of their own and a really funny sense of humor—I guess that's why it's called the Big Easy. [Serena—you should come on down and I'll show you all of Amalise's favorite places!]
STAY TUNED FOR PART 2 OF THIS INTERVIEW
TO SEE HOW YOU CAN
WIN
A COPY OF HER NOVEL,
CHASING THE WIND!
Portions of this interview first appeared at USA Today's Happy Ever After blog. Except where otherwise noted, images are from the author's website.