Welcome, Ladies, to another installment of that ever-popular meme, My Book Boyfriend. This week's heart candy comes to us from Medieval times and the worthy pen of author Tamara Leigh.
My Book Boyfriend is an original meme,
created by Missie at The Unread Reader.
Missie is getting help with the hosting this fall
from My Keeper Shelf's Lesley. For info on how to
feature this meme on your blog, got to THIS POST
Tamara's new novel, THE UNVEILING is the first in a new medieval series called Age of Faith. It features as protagonist a young woman named Annyn Bretanne who lives for revenge. And her dagger has the name BARON GARR WULFRITH carved on it. So, of course, I'm featuring the drool-worthy Garr here today.
Here are the Top Ten Reasons
why Garr Wulfrith stole my book-boy-luvin' heart:
1. Lord Wulfrith is a knight. ('nuff said?)
2. He trains young men to become knights, and they (mostly) adore him, so he's got that whole teacher-vibe thing going on. This includes numbered lessons, consisting mainly of one-liners, with different lessons for different squires, yet he manages to remember which squire received which lesson in which order. So, yes, he's got a sharp mind.
3. Plus, he's big, broad, muscled, and lean, which, even if he wasn't so sharp, he'd be pretty enough to crush on.
4. He's young, but has prematurely silver hair. Now that caught my attention. Silver hair?! And that, my dears, is when he had me at "hello." Want to see what I mean? Check out THIS PHOTO LINK of

Richard Gere

. Take that fluffy silver mane, and then add a little hardness, a little toughness, a little *fans self* "Yes, please!" as seen in THIS PHOTO LINK of actor

Paul Walker

, and you have a good representation of what I think BARON GARR WULFRITH might look like. (When you've finished drooling, come on back.)
5. He can ride a horse standing up.
6. He's a master of weapons and a novice with wooing, but not with, ahem, certain aspects of physicality.
7. He's been taught to be a chauvinist by his father, but he's good and respectful to his mama, so there's hope.
8. He's morally driven... within the scope of the times. So, yes. He's an edgy hero for inspirational romance. He's benefited from the ministrations of women of "the profession", so he's not, ahem, pure (nor does he apologize for it, really.) But our Garr looks upon the marriage bed differently. Chauvinistically and a tad elitist differently, yes. But he's a moral guy for his times, just differently, due to those times. And, remember: he loves his mama. So there's hope for Garr to become Mr. Woo-me-baby if just the right, tough, weapons-friendly & noble-born girl (like Annyn) captures his heart. (Although he would never assume to marry for any other reasons than to beget an heir, as counselled by his father.)
9. Garr's a good kisser. An excellent kisser, actually.(My fan hand is getting a mite tired.) And he's willing to cut his own arm to make sure that the sheet that hangs out the window after the wedding night gets the message across to those who might threaten his woman. (Remember: medieval.)
And finally, 10. Lord Wulfrith is the master of multiple keeps and castles. (I've always wanted a vacation home.)
Here's the blurb about the book from amazon.com:
12TH CENTURY ENGLAND: TWO MEN VIE FOR THE THRONE: KING STEPHEN THE USURPER AND YOUNG DUKE HENRY THE RIGHTFUL HEIR. AMID CIVIL AND PRIVATE WARS, ALLIANCES ARE FORGED, LOYALTIES ARE BETRAYED, FAMILIES ARE DIVIDED, AND MARRIAGES ARE MADE.
For four years, Lady Annyn Bretanne has trained at arms with one end in mind—to avenge her brother's murder as God has not deemed it worthy to do. Disguised as a squire, she sets off to exact revenge on a man known only by his surname, Wulfrith. But when she holds his fate in her hands, her will wavers and her heart whispers that her enemy may not be an enemy after all.
Baron Wulfrith, renowned trainer of knights, allows no women within his walls for the distraction they breed. What he never expects is that the impetuous young man sent to train under him is a woman who seeks his death—nor that her unveiling will test his faith and distract the warrior from his purpose.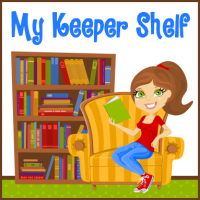 Now that you've met Garr,
head on over to check out
My Keeper Shelf
and see what other book boyfriends
are being featured on the meme today!
Tamara Leigh is self-publishing the Age of Faith series and I encourage you to go buy the book, not only to support one of my favorite go-to-for-a-sure-winner authors in this endeavor, but because it's an EXCELLENT, five-star read (more in-depth review to come!)and is totally the sort of thing we LOVE to feature here at EDGY INSPIRATIONAL ROMANCE! Besides, you really should meet my book boyfriend, Garr (and Annyn, I suppose...sigh.) for yourself! Here's a link to purchase at Amazon. At this time, The Unveiling is only available for Kindle, but you can get an app for other devices.
I'd love to hear what you think!