I feel a little like Santa lately. And not just because I've been consuming a whole lotta cookies. No, while that bad habit will surely help my mirror agree with the comparison, it's the fun of giving out some books that's got me all jolly and bright.
Last week Kandra and Erynn both got the news that they were winners in my
evil plan to take over the world
SAVE MY PAPER BOOKS GIVEAWAY.
To be entered in the contest, readers just had to answer a few questions and give me their email addy.
Easy Peazy Lemon Squeezy, right?!
Today I am pleased to announce our latest winner:
MELODY DURANT!!!!
Here is how Melody answered my questions:
1. What is a non-review topic you'd like to see addressed at Edgy Inspirational Romance?Melody:
How to create an APP for cookbooks? (that way you'll have my cookbook on your IPAD or phone and can just look up the recipe at the grocery store!)
Serena:
That's a great question and... I wish I could help you out, but... I can barely flip a lightswitch and am still amazed that you can put a needle on a piece of black vinyl and end up with music.
What's that? You say no one listens to records anymore? Oh, I know. CDs are where it's at. What? They're not? MP3 downloads, you say? Oh, dear.
Well, Melody, I may be exaggerating a bit (other than the amazement part) when it comes to music technology. But other tech, well...as you can see, I'm clueless. Luckily for my own needs, I'm either related to or good friends with several techies. But...probably not going to be much help on the "need-a-nerd" front. But thanks for asking! Perhaps in the future we can feature some guest posts by self-pubbing authors who can give us some hints to that app creation. In the mean time, I suggest you check out Amazon's $Free$ Building Your Book for Kindle and James Scott Bell's inexpensive e-book
,
Self-Publishing Attack! The 5 Absolutely Unbreakable Laws for Creating Steady Income Publishing Your Own Books2. If you were to name a pet after a fictional character, who would it be?Melody:
Rooster Cogburn was a miniature sheltie we had. And Eula
Serena:
Funny! Two characters from True Grit! And that explains a lot about your fave sub-cat, too: Western.
3.. What are your Top 2 Fave Inspy Romance sub-categories?Melody:
I love inspirational romance in any time period! Do I have to pick 2? Western and Historical, then.
Serena:
Ahh, yes. Western is always popular and I've had a lot of Historicals come my way this year, so... I've got you covered, girlfriend!
Here are the books MELODY will receive!
(images are from barnesandnoble.com & book descriptions, unless otherwise noted, are from amazon.com)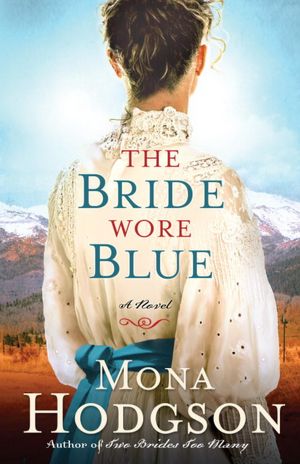 THE BRIDE WORE BLUE:
The Sinclair Sisters of Cripple Creek—Book 3
by Mona Hodgson

Headed toward a fresh start but tethered by her past, Vivian longs to break free, to find forgiveness and love.
At last, the sisters are reunited! The youngest Sinclair, the family" baby", is moving from Maine to Cripple Creek, Colorado and joining Kat, Nell, and Ida. But Vivian is a young woman with a will of her own, and made some decisions back in Portland that have begun to haunt her. Will she be able to live up to the expectations of her three perfect and now happily-settled sisters?
The sisters warmly welcome Vivian to the mountain west, but the wild-and-woolly mining town isn't ripe with opportunities for a respectable young woman. The youngest Sinclair sister is determined to make her own way, so
when she's off ered a job as a hostess in a sporting house, she takes it, thinking the position is appropriate for a tainted, unlovable woman like herself. Although she's convinced she'll never be asked to entertain privately, Vivian
keeps her employment a secret from her sisters, knowing they'd be mortified—as will Carter Alwyn, the kind and godly sheriff 's deputy who's sweet on her.
Vivian is descending into a life of secrets, lying to the very people who love her and could help her heal from her mistakes. Will an outpouring of grace remind her that she is still God's beloved and that her past can be washed as clean as Rocky Mountain snow?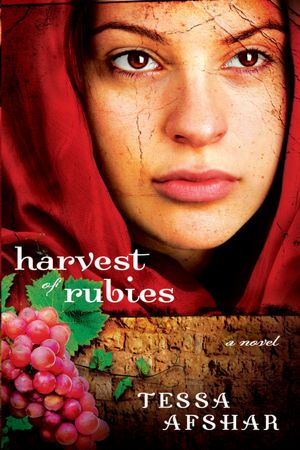 HARVEST OF RUBIES
by Tessa Afshar

(this overview came from www.barnesandnoble.com)
The prophet Nehemiah's cousin can speak numerous languages, keep complex accounts, write on rolls of parchment and tablets of clay, and solve great mysteries. There is only one problem: she is a woman.
In her early childhood years, Sarah experienced the death of her mother and her father's subsequent emotional distance and she came to two conclusions: that God does not care about her, and that her accomplishments are the measure of her worth - the measure of her self.
Sarah, the talented scribe and cousin to Nehemiah, is catapulted into the center of the Persian court, working too many hours, rubbing elbows with royalty, and solving intrigues for the Queen. Ironically, it isn't failure but success that causes Sarah to lose her only source of external validation.
Sarah soon learns that she has something of worth to offer beyond her ability with languages and sums - her very being proves to be a blessing to others.
THE PURSUIT OF LUCY BANNING
by Olivia Newport
Lucy Banning may live on the exclusive Prairie Avenue among Chicago's rich and famous, but her heart lies elsewhere. Expected to marry an up-and-coming banker from a respected family, Lucy fears she will be forced to abandon her charity work--and the classes she is secretly taking at the newly opened University of Chicago. When she meets an unconventional young architect who is working on plans for the upcoming 1893 World's Fair, Lucy imagines a life lived on her own terms. Can she break away from her family's expectations? And will she ever be loved for who she truly is?Readers will love being swept away into a world of mansions, secrets, and romance as they follow Lucy through the streets of the Windy City during one of the most exciting times in the city's history. From opulent upper-class homes to the well-worn rooms of an orphanage, Olivia Newport breathes life and romance into the pages of history--and everyone is invited.
I'll be emailing you soon to get your mailing address so I can get these books on their way to you.
Readers, come back tomorrow when I will announce WINNER #4!!!!
Stay tuned... it could be you!
Santa & cookies image courtesy of:
Image credit: <a href='http://www.123rf.com/photo_12929468_santa-claus-reaching-for-a-fresh-chocolate-chip-cookie-from-a-red-plate-against-a-black-background.html'>joebelanger / 123RF Stock Photo</a>
Lemon squeezy image courtesy of:
Image credit: <a href='http://www.123rf.com/photo_7608789_hand-squeezing-half-lemon.html'>ambro / 123RF Stock Photo</a>