This week we are pleased to stalk prolific author Robin Jones Gunn. Robin recently released Finally & Forever, the fourth book in her Katie Weldon series, and just this month she also released a women's fiction title, Cottage by the Sea. I caught up with Robin outside the window of her home in Hawaii and, although I wish I could say it was in person, sadly, it was via email. Still... here's the nitty gritty on what you might observe if you, like me, were caught stalking Robin Jones Gunn.
Serena: If I was lurking outside your living room window and happened to catch you dancing, what artist or song would be playing on the stereo?
Robin: This week my iTunes file has been set on "shuffle" so you'd hear everything from Rodrigo y Gabriela (soul-stirring flamenco guitar music) to Israel Kamakawiwo'ole (Hawaiian ukulele) with some Hillsong and Andrea Bocelli in the mix with a dash of Rich Mullins.
Serena: But if, instead, you were sitting at your desk, hammering away at your latest work-in-progress, would I hear music? If so, what?
Robin: Lots of Hawaiian slack key guitar or airy instrumental music without words. I go for the calming, mellow background music while I write because when I write to music with words I end up typing the words to the song.
Serena: I know what you mean! It's a totally drag when I'm frantically typing away, trying to craft a dramatic death scene and all of a sudden everybody cuts footloose. So beyond instrumental music, what else inspires you? Is there a window in your writing nest?
Robin: My little nest has three windows. I look out at palm trees, deep azure sky, a thriving gardenia bush and an ailing red ginger plant that I've been trying to baby along back to health. In between the neighboring houses I can catch a tiny slice of blue Pacific Ocean and if I lean over just right I can see the tip of the island of Kaho'olawe.
Serena: How long have you lived in Hawaii? And what precipitated your move from the mainland?
Robin Jones Gunn
(Hey, if you're gonna stalk someone,
why not pick someone
who lives in Hawaii, right?)
Robin: We lived here twenty years ago and always wanted to move back. My in-laws had a place here so we'd visit every chance we could. Two years ago we got serious about moving here since our two kids were grown and married. We put our house up for sale and expected it to take two years to sell, which was the norm for our neighborhood. The house sold in three weeks and we knew it was time to take the leap. One of the great things about being a writer is that you can write anywhere. My husband is a counselor and he's been able to set up a new practice here. Hawai'i has been the home of our heart since we first came on our honeymoon 35 years ago. Being settled here now feels natural. We are very much at home.
Serena: If you had to pick only three items to have in your purse (besides regular & plastic money, of course!) what would they be?
Robin: My driver's license. I travel a lot so I'd need that current ID. Plus, a Hawaiian driver's license entitles residents to discounts at local restaurants and stores. That's very helpful since it's so expensive to live here. I'd also take my reading glasses and my keys. If I could take four items the fourth would be a pair of sunglasses. It's misery to leave the house without sunglasses here and I'm forever losing mine.
Serena: Onto the important summer subject of... ice cream. Dish or cone?
Robin: Dish. Especially if its gelato and it comes with one of those tiny spoons so that it makes you slow down and savor the taste. If it's frozen yogurt at a self-serve place I'd definitely go for the dish because it allows room for toppings. My favorite frozen yogurt combo here is half taro and half haupia with a few raspberries on top.
Serena: Chocolate: dark, white, or milk?
Robin: Dark. Always. The darker the better.
Serena: Ahh, a chocolate lover after my own heart! What's worse… spiders or snakes?
Robin: Centipedes! We don't have any snakes in Hawaii. They aren't indigenous and there are strict fines to bringing any into the state. I killed my first centipede in the backyard when we'd lived here about two months. Freaked me out! The vile creature was six inches long and moved fast. After I'd wacked it in half both halves kept squirming. Gives me the shivers to think about it! All those flailing legs . . . ewww! I've seen the painful, swelling effects of a centipede's bite and heard lots of stories from locals. I hope I never have my own personal story to add. Can we go on to the next question? I'm starting to feel queasy.
Serena: That. Sounds. Nasty! New topic! Stat! What's the best novel you've read so far this year?
Robin: I'm reading Uncle Tom's Cabin right now. It's slow going but powerful. Harriet Beecher Stowe is my woman of substance. Her novel changed the course of history. Her life story is fascinating and her faith in God inspires me deeply.
Serena: If you could pick any one of your many books to be made into a movie, which novel would it be… and who would you cast as the leading lady
(or leading man)?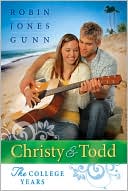 Robin: I've thought about this question a lot over the years. I can easily imagine a number of my novels as movies but if I had to pick one to go into production right away it would be the Christy Miller series. Teen girls have been begging to see Todd and Christy on film for many years. We've had lots of conversations with lots of significant people in the television and film industry but so far all the right doors haven't yet opened at the same time. I'm still praying!
Serena: Pick one object, one quote, or one "something else" that, to you, is a good depiction of what "romance" should be.
Robin: I've always seen God as the Relentless Lover. We are His first love and He never stops pursuing us because He wants us back. He made us. He wants to be in relationship with us. He pursues us continually but it is up to us to respond. I see every romance, every love story as being an echo of the great love initiated by God. We were created with a deep longing for love and acceptance and an ongoing intimate relationship. I believe the source of true love comes from God.
Serena: What's your favorite movie (or TV show)? Why
?
Robin: Babette's Feast. I love the way this story shows a humble woman giving her all, extravagantly, to those who don't know how to appreciate her loving gift. And yet the richness of her gift prompts a heartfelt response from the very soul of every person who was invited to her table. To me this is such a picture of God's love for us. He gives and gives out of love and we don't know how to appreciate such a sacrifice. Yet something deep within us cries out in an echoed response. I love this movie.
Serena: If you had a regular weekday with nothing on your schedule, but you were NOT allowed to read or write, what would you do?
Robin: I'd go to the beach. You probably guessed I might say that, right? It's surprising how difficult it is to stop normal life and get down to the water even though the beach is within walking distance of where I live. I'd take my beach chair, a big glass of plantation tea (iced tea with a pineapple wedge) and I'd stare out at the ever-changing ocean until it got too warm to be in the sun. Then I'd walk right into the water until the waves covered me and I'd come up, glistening with salt water drops on my eyelashes and grinning all the way from my soul out.
Thanks, Robin, for letting us peek through your windows and into your world!
GIVEAWAY ALERT:
Tomorrow I'll be hosting a giveaway in which one lucky reader will win Robin Jones Gunn's YA(ish) romance,
Finally and Forever.
Come back and visit us tomorrow for my review and all the fun deets on this contest! And don't forget about
our multi-author, multi-winner giveaway, still going on through July 31, 2012
!