Book bloggers highlight the characters they fell in love with in My Book Boyfriend, a weekly meme from Missie at
The Unread Reader
.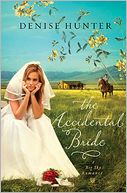 I've spent the last few nights with Travis McCoy from Denise Hunter's
The Accidental Bride
. Travis is a local boy done good. After hitting it big on the rodeo circuit, he returns home to help his childhood sweetheart save her ranch. Their story is heavy (HEAVY!) on the romance and this book boyfriend had my heart beating in my throat. Definitely a five star read!
Travis's description:
wealthy Rodeo star and rancher
"It didn't help that Travis McCoy had transformed from lean wiry boy to brawny cowboy, complete with bull-wide shoulders, slim hips, and long legs. And those stormy gray eyes...those hadn't changed at all. They still had the power to suck her under. Cussed man." (p. 10)
Stubborn jaw, crooked nose (p. 30)
"bold as a grizzly and twice as smug" (p. 176)
"His eyes danced, silver sparks igniting in the evening light. A hint of a smirk tugged at his lips. His jaw bore the stubble of a long day."
In my head Travis looks like...
...a brawnier Ryan Gosling. I can just picture him sleeping on Shay's couch!
What I love about him:
I'm a sucker for a good childhood sweetheart storyline. And there's something about
Ryan's
Travis's cocksure attitude and barely concealed smirks that are so adorable.
My favorite pick up line:
He pulled back and looked at her. "I love you Shay."
Something swelled inside of her, big and powerful. Her own declaration clawed for release and caught like a rock in her throat.
"If you don't hear anything else, hear that," he said. And then his lips were on hers again, and she was floating on a sea of rapture. (p. 207)
Want to know more about Travis? Here's the book blurb:
When a wedding reenactment turns real, Shay finds she's an accidental bride.

Shay Brandenberger is raising her daughter in Moose Creek, Montana, on her childhood ranch, nestled against the Yellowstone River. Despite the hard work, she can't seem to keep her head above water-and now the bank is threatening to foreclose. She prays for a miracle, but the answer she receives is anything but expected.

Having agreed to play the bride in the Founders' Day wedding reenactment, Shay is mortified to be greeted at the end of the aisle by none other than Travis McCoy, her high-school sweetheart-the man who left her high and dry for fame and fortune on the Texas rodeo circuit.

Then the unthinkable happens. Thanks to a well-meaning busybody and an absentminded preacher, the make-believe vows result in a legal marriage. But before Shay can say annulment, Travis comes up with a crazy proposal. If she refuses his offer, she may lose her home. If she accepts, she may lose her heart.

Shay isn't sure if the recent events are God's will or just a preacher's blunder. Will trusting her heart to the man who once shattered it be the worst mistake of her life? Or could their marriage be the best accident that ever happened?
Did you miss Serena's Accidental Bride review or Denise Hunter's recent interview?