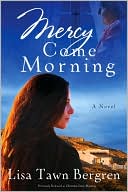 I promised to review this book a long time ago, but after reading the back cover copy, I kept putting it off. And putting it off. And... you guessed it. I put it off some more.
I knew the writing would be smooth. I knew the story would be rich. I knew the characters would slide inside my head and nibble at my heart. So why, you ask? Why would I delay reading a book I knew would be good, written by one of my favorite authors?
Good question.
Bad answer.
I thought it would be a downer.
And... even when I know a story is going to be good, sometimes I'm just not in the mood to get my heart ripped out. But... I had a break in my crazy schedule. And since two more Bergren books were coming up fast & furious on my review schedule
(BOURNE, the highly anticipated #3.1 in the River of Time series is an e-novella scheduled for Feb. 28 release and GLAMOROUS ILLUSIONS, a 1920s novel, is scheduled to release June 1)
I thought I'd best get it read.
It was wonderful, of course.
And, yes, I cried. I pretty much had a lump in my throat for the whole last 1/3 of the novel, but... once I started reading, I couldn't put it down. I finished it in one sitting (not counting the trip to the hall closet for a new box of Puffs Plus.)
HERE'S THE SITCH:
(from the back cover copy)
There are no second chances.
Or are there?
Krista Mueller is in a good place. She has a successful career as a professor of history; she's respected and well-liked; and she lives hundreds of miles from her hometown and the distant mother she could never please. it's been more than a decade since Alzheimer's disease first claimed Charlotte Mueller's mind, but Krista has dutifully kept her mother in a first-class nursing home.
Now Charlotte is dying of heart failure and, surprised by her own emotions, Krista rushes to Taos, New Mexico, to sit at her estranged mother's side as she slips away. Battling feelings of loss, abandonment, and relief, Krista is also unsettled by her proximity to Dane McConnell, director of the nursing home -- and, once upon a time, her first love. Dane's kind and gentle spirit -- and a surprising discovery about her mother--make Krista wonder if she can at last close the distance between herself and her mother... and open the part of her heart she thought was lost forever.
Having seen the affects of Alzheimers and dementia -- as well as the gasping death of heart failure -- with dear grandparents, I must admit that there were some brief, but vivid scenes that I found a challenge, emotionally, to read. But more than a book on dealing with death, this book was about forgiveness -- and how difficult/impossible it is to forgive -- and to receive forgiveness -- without supernatural intervention.
This is a story about healing. About coming to understand that there is so much more to a person's inability to express love than a child's heart (even an adult child's heart) can understand. But it's also a story about giving love -- romantic love -- a chance, and trusting in someone bigger than yourself to end the cycle of relational dysfunction in your life.
But it's not all pain and trouble and heavy stuff. There's quite a bit of funny, too. And heartwarming romance. Krista has a wonderful, dry sense of humor and Dane is such a humble, patient pursuer of her heart. There's allegory if you want to call it that, and symbolism in the dance... but let's just call it love, okay?
Okay.
TO READ, OR NOT TO READ?
Don't be like me and put it off out of fear. Just. Read. It.
(But do, please, keep your tissues handy.)
And now, a break from our regularly programmed review
to give you a little teaser about Lisa Bergren's next upcoming title!
Eat your heart out ladies, cuz last weekend I had the opportunity to read BOURNE, a novella numbered creatively as "3.1" in the River of Time series (expect that review in March!) And... all I can say (for now!) is "yum."
Now, be a dear and wipe the drool from your chin; there are plenty of other good books out there to read until our favorite Time Traveling Teens & their Super Hot Italian Knights reappear for another ride down the River of Time. (Nothing like a little teaser to get those Amazon cards you got for Valentine's Day all warmed up, right?!?)
SERENA'S RATING for Mercy Come Morning