Denise Hunter began writing in earnest after the loss of a family member prompted her to live each day to its fullest — and to chase after her dreams. Since then she has published more than 20 novels and several novellas. Her latest release, The Accidental Bride, takes place in Montana. It is the second book in her Big Sky Romance series.
Serena: A lot of romance novels end with a wedding — but The Accidental Bride starts with one! Did you giggle just a little bit when you got the idea to build a romance … backward?
Denise: I have to say, I had a ball writing The Accidental Bride! Readers love a marriage-of-convenience story because the hero and heroine are in close quarters for much of the story, ratcheting up the tension. The "accidental marriage" is my twist on that, and since I love a story in which the hero and heroine have a rich, complicated history, I added that element also.

Serena: Shay likes to dance, but she tenses up at certain song lyrics. If Travis and Shay's relationship had a theme song, it might be …
Denise: Definitely "Bless the Broken Road" by Rascal Flatts
Serena: Your series often introduce new main characters in a series-familiar locale. In those cases, do you begin the series with each book's protagonist in mind, or does a particular minor character from one book capture your heart and demand her own story along the way?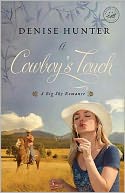 Denise: Originally A Cowboy's Touch (the first book in the Big Sky Romance series) was supposed to be a stand-alone. Then single-mom Shay popped onto the page all spunky and begging for a hero, and … the Big Sky Series was born. Shay quickly wormed her way into my heart and became a favorite of mine. She's strong and feisty, and a mite stubborn, especially where cowboy Travis McCoy is concerned.
Serena: How much time do you generally spend in a particular location doing research before you feel ready to let your characters live there?
Denise: Usually several days. I'd love to linger longer, but with teens at home, it's hard to get away. Researching settings has become a thing my hubby and I do together. We had a blast gallivanting all over Montana for the Big Sky Series.
Serena: Of all the locations you've visited and/or written about, which are you most likely to return to for a pleasure trip?
Denise: I always choose places that I think my readers would like to visit — after all, they actually are going there in their imagination (and so am I!). I tend to gravitate toward small mountain towns like Moose Creek, Mont. — the setting for the Big Sky series. I've also had stories in North Carolina; Jackson Hole, Wyo.; Nantucket; Vermont … I couldn't possibly choose between them!
Serena: The Big Sky Romance series features several horse-loving characters. Are you a horse lover? Do you ride … or, like Travis in The Accidental Bride, do you rodeo?
Denise: I do love horses, but frankly, I'm pressing my luck just to stay in the saddle. I wanted to get it right for the series, though, so for all those horsey details, I turned to a Montana rancher and his wife, Billy and Marci Whitehurst. They were so kind to explain the daily workings of a ranch to this greenhorn city girl.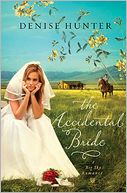 Serena: Travis and Shay's love life takes an interesting turn when chores morph into a literal roll in the hay. Do you look at barns differently now (LOL) than you did before writing that scene?
Denise: Well, admittedly, a barn is an unusual place to consummate one's vows, but sometimes passion flares when (and where) we least expect it. But in all seriousness, I do like to leave these things to the reader's imagination by closing the, er, barn doors.
Serena: Your husband claims to be the inspiration for the strong romantic element in your books. Do any other friends or relatives inspire other story elements (or characters) in your novels?
Denise: "Claims" being the key word there (smiles). One of my relatives once said, "I hope no one thinks all this comes from our family!" LOL. Almost everything in my books is straight out of my imagination. Almost.
Serena: Describe the place in which you write.
Denise: I have a lovely office. It's large, nicely lit, with a built-in desk, and is beautifully decorated in my favorite colors. Do I write there? Of course not. I kick back on the living room sofa.
Serena: You've contributed to several anthologies/novella collections, such as the recently released Smitten (written with Colleen Coble, Kristin Billerbeck, and Diann Hunt). Do you find it easier or more difficult to pen a shorter story?
Denise: The thing I love about writing novellas is that I can write them quickly. A book is a long-term commitment — usually about six to seven months for me. Of course, there are challenges with a shorter format, such as realistically building a love relationship in 100 pages. Smitten was especially fun, because it was written with three friends. We had such a blast, and now it's a series, so there are more good times coming. You can read more about Smitten, hear the song written just for the book, and sign up to win free stuff at SmittenVermont.com.
Serena: What writing project is next on deck for you?
Denise: I just turned in the third book in the Big Sky Series, The Trouble with Cowboys (October 2012). It features a heroine who's contracted to write a lovelorn column — only problem is, she's never even been in love. When she turns to the town Casanova for answers, she ends up with more trouble than she bargained for.
Serena: Sounds like fun! Did you always know you wanted to be a writer, or was it a desire/calling brought about by a specific event or time in your life?
Denise: I've always been an avid reader, but I didn't start dreaming of writing a novel until I was in my early 20s. By then I was busy with young children, and I put it on the back burner. It wasn't until my grandfather's passing that God pricked my heart with the truth: No one is guaranteed another day on this earth, and a dream worth dreaming requires a plan of action. I started my first manuscript the next week, writing while my boys napped. It was later published as Stranger's Bride (Barbour Publishing).
Serena: Have you had any formal training as a writer/novelist, or have you picked up skills along the way?
Denise: I actually majored in commercial art in college. Once I decided to take the plunge and write my first story, I must've read 100 library books on the subject. I still read books on writing and attend conferences. There's so much to learn. Writing is a craft to be honed, and I never tire of finding new ways to tell a better story.
Serena: Do you ever have two (or more) projects competing for supremacy in the battle for your time and/or imagination?
Denise: Oh, yes! Especially now that I'm writing a book every nine months and a novella (for the Smitten series) every year for Thomas Nelson. Which one wins? The one with the nearest deadline! But I'm actually thinking about multiple stories all the time. I'm often jotting notes on paper napkins, on the backs of church bulletins, or typing them into my iPhone.
Serena: As a mom, how do you structure your day to balance writing and family time?
Denise: I need quiet to write, so I get my work done while the boys are in school. Summers are a little more challenging — I find myself writing in the car during sports practices or holing up in the bedroom for a few hours. But somehow, it all gets done.
Serena: Do you read much outside of the inspirational market and, if so, what sort of books do you read?
Denise: I read in both markets. In the inspirational market I tend to read romance/women's fiction like Francine Rivers, Jenny B. Jones, Rachel Hauck and Susan Meissner. Reading in the general market helps me keep up with trends, so mostly I read best sellers like The Help by Kathryn Stockett.
Serena: Is there one writer from your childhood or teen years who sticks out as a particular inspiration for your own storytelling?
Denise: The Little House books by Laura Ingalls Wilder initially got me hooked on reading. I always had my nose in a book when I was a kid. Still do, in fact.
Serena: Are you a holdout to traditional books or have you converted to e-book reading?
Denise: I'm a convert! I own a Nook and read almost exclusively on it now. I say almost because sometimes when I'm browsing in a bookstore, a beautiful cover woos me, and I have to take it home.
Serena: Valentine's Day is just around the corner. How do you celebrate the Day of Love?
Denise: My hubby usually gets me chocolates, the really good stuff. But then, he's often bringing home little treats for me. I say spread the romance out a little — why confine it to one day?
Serena: Oh, I agree — one day isn't nearly enough! So where do you see yourself and your career 10 years from now?
Denise: When I started writing 15 years ago, my goal was simply to finish a full-length manuscript. I had no clue that God's plan for me would include 20-plus published novels. His dreams are bigger than mine (and infinitely better), so I'm just going to keep plugging away, writing the best novels I can, and leave the rest up to him.
I'm so grateful to my readers for trusting me with a few hours of their time. It's a privilege I don't take for granted. I love keeping in touch with my readers, so I'm active on Facebook and Twitter. I often have giveaways there and on my website for those who are signed up for my newsletter. You can also read the first chapter of The Accidental Bride there.
(This interview originally posted at USA Today's romance fiction blog, Happy Ever After)