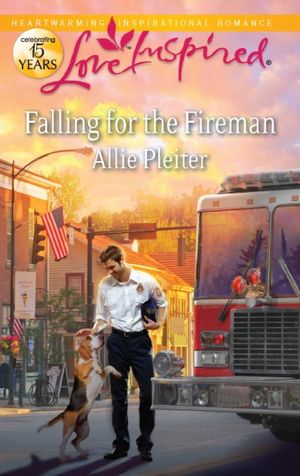 A dog?
My fingers paused over the keyboard as Plug the firehouse dog popped his goofy head into my imagination. Really? A dog?
I'd never had a dog play a major role in one of my books.
My So-Called Love Life
had a rhinestone-collared Iguana named Marilyn, so I suppose she counts--sort of. She took center stage by sheer oddity, whereas Plug is more of a basic fellow. Simply put, he's smarter than he looks.
At first, I worried I'd turn off the cat people. Lots of readers are cat people. But then I realized I'd really just appeal to the animal people, because Plug shows how all of us let our guard down around animals. They adore us, even when we mess up. Plug loves troubled teen Nick Nelworth just because that's what dog do to boys (or anyone, I suppose). Plug gets straight to the heart of Nick's mom Jeannie and her paralyzing fear of the firehouse across the street. I won't say how, but it's the kind of charming directness only a slightly portly, slightly drooly, beagle-ish mutt can get away with. He takes one look at Jeannie and knows what's up.
Chad Owens, the fire marshall who would prefer not to get tangled up with Jeannie and her son Nick, has Plug to thank for all his new complications. It's one of those great man-dog relationships: Chad tolerates Plug; Plug adores Chad. When Nick adores Plug who adores Chad---well, you get the picture. Plug sees what we as readers guess in the opening chapters: these three need each other.
My dog is the exact opposite of Plug. Bella is a dainty, uppity, fluff-ball who uses cuteness with ninja-like precision. Could she get me to fall in love?
She'd tell you she already has. I adore that furry diva. So in answer to the question in line one--yes, a dog.
An avid knitter, coffee junkie, and devoted chocoholic, Allie Pleiter writes both fiction and non-fiction. The enthusiastic but slightly untidy mother of two, Allie spends her days writing books, buying yarn, and finding new ways to avoid housework. Allie hails from Connecticut, moved to the midwest to attend Northwestern University, and currently lives outside Chicago, Illinois. The "dare from a friend" to begin writing has produced two parenting books, fourteen novels, and various national speaking engagements on faith, women's issues, and writing. Visit her website at www.alliepleiter.com or her knitting blog at www.DestiKNITions.blogspot.com
Want more info about Allie Pleiter's Falling for the Fireman? Here's the book blurb:
There's something achingly familiar about the look in fire marshal Chad Owens's eyes. Widowed mom Jeannie Nelworth knows firsthand what it is: loss, hurt and yes—bitterness. Ever since the fire that changed their lives, Jeannie's young son has borne that same look, pushing everyone away. So she's grateful when Chad tries to get through to the boy with the help of his trusty fire station dog.

But the man who's all about safety and prevention keeps himself protected—from loving and losing again. Seems as if Jeannie will have to add his kind, guarded heart to her rebuilding efforts.