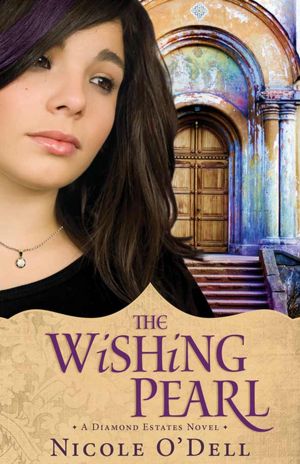 New YA from Nicole O'Dell
THE WISHING PEARL: A Diamond Estates Novel
Popular Christian author, speaker, and teen radio host Nicole O'Dell's latest novel introduces readers to the fallout of mishandled loss. Telling the story of Olivia, a talented musician who longs for the day when she will go to college and get away from her unhappy home, The Wishing Pearl, A Diamond Estates Novel, is written for teens.
It should be noted that Olivia, the novel's main character, is a victim of sexual abuse at the hands of her stepfather and that her quest for escape leads her to experiment with alcohol and drugs. As a mom, however, I found NO ISSUE with the real, yet careful way O'Dell portrayed these sensitive subjects and I have no qualms about recommending this book to teens.
Here's the sitch, from the back cover:
Sixteen-year-old Olivia Mansfield dreams of a land far, far away... A land far away from her stepfather's abuse and torment. A land far away from her mother's blind eye. A land far away from the haunting memories of her past.
But then reality sets in, and Olivia knows she must make the best of her dire situation -- at least until her high shcool graduation. But when poor choices lead Olivia to the brink of a complete breakdown and she finds herself dealing with the unexpected death of her best friend, she comes to a crossroads.
Will Olivia find the path to ultimate hope and healing that her heart longs for Or will the demons from her past prove too much to bear?
My Take On It:
Emotively written in a teen-appropriate manner, The Wishing Pearl tackles sensitive subjects without gratuitously over-detailing the icky parts -- yet, at the same time, O'Dell does not gloss over the heartbreaking results of its characters' actions. Well done.
The Wishing Pearl has a spare bit of boy attraction-action, but the romantic subplot is not the main thrust of this book -- it's more about the complexity of relationships when abuse is present in a person's life; and about chasing the hope that feeds a hungry, hurting soul.
My thanks to Nicole O'Dell and Barbour Publishing for sending me a copy of this novel. My fourteen-year-old, high school freshman daughter read The Wishing Pearl also -- and this review comes with both of our recommendations. Not only did we both enjoy it, we are also looking forward to the next Diamond Estates Novel.
Serena's Rating: