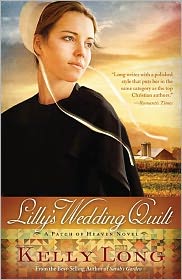 I had a bad reaction to a bonnet book a decade ago (broke out in a nasty case of book flinging) and have avoided the genre ever since.
But not without a little guilt.
Edgy or not, this
is
a Christian romance blog and to ignore the Amish is to ignore a huge section of the inspirational market. So I put "read a bonnet book" at the top of my to-do list, but it kept slipping somewhere behind call Aunt Edna and clip my toenails. I just couldn't get excited about it.
Last month, my Google alerts picked up a
conversation
about an edgy Amish novel that caught my attention. I checked Amazon for
Lilly's Wedding Quilt
by Kelly Long and when I read the one star review nestled between all the four and five star ones, my interest grew. It sounded like just the kind of book I'd looooove. Then my friend Renee called Kelly Long the Amish Deeanne Gist, and I was sold (read the backstory on my Deeanne Gist obsession
here
).
Don't let its vanilla cover fool you,
Lily's Wedding Quilt
had everything I love in an edgy inspirational romance, high romantic tension, lots of relationship angst, and kissing scenes that'll flap your church fan. It's the closest thing I've read to Deeanne Gist this year except, obviously, Deeanne Gist.
In addition to raising the heat level, I loved that the author touched on the topic of depression in the Christian community. In my opinion, there is some misinformation and harmful teaching coming from pulpits on that issue and her book does a great job addressing it.
As long as I don't picture Jacob kissing Lily with that married Amish beard of his (those things aren't sexy
at all
) I can say
Lilly's Wedding Quilt
is one of the best romances I've read in 2011.
My rating:
And even edgier....
Hot off the heals of my first Amish success, I have an
even edgier
bonnet book at the top of my reading pile. This one has vampires in it!
Forsaken
by Leanna Ellis isn't technically Christian fiction, but the author has said
in an interview
that it's probably her most spiritual book to date, so I can't wait to see what she means.
Seems like Edgy Amish fiction isn't such an oxymoron anymore. Do you have an Amish fiction book you think I need to read? Leave the title in the comments.