February's Christian Fiction Book Club was hosted by Renee Ann at Doorkeeper. She decided to do something different this month, everyone picked their own book to discuss. In addition to reviewing the novel, participants choose a book club discussion question to address.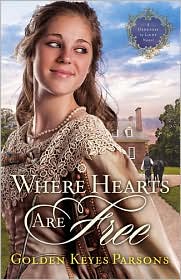 Mini Review:
I
really
enjoyed this story. It was a quick, suspenseful read and I finished it in one day. Phillipe is a Huguenot in love with Bridget, a Catholic girl, in the 1600s. This combo made for fresh conflict, completely different than anything I've read before. I prefer my bad guys really, really bad and the antagonist in this novel fit the bill. Edward was well drawn and a great danger to the heroine. He was the reason I had to finish this book in one day. I just couldn't put it down until I found out what happened.
As a gripping historical, they don't come much better than this. However as a romance, this novel was a little on the light side. Bridget and Phillip are apart for most of the book, and when they finally get together, they go straight to the marriage without much build up. But the way Parsons builds tension with her writing more than compensates for my one minor quibble. This one is recommended for fans of historical fiction.
Want more info? Here's the back cover blurb:
Bridget is in love with one man....and promised to another.

Amid the liberty and promise of the New World, Bridget Barrington and Phillipe Clavell fall in love. But nothing about their love seems possible.

To pay for the Clavell family's passage from France, Phillipe, a former member of French royalty, worked as an indentured slave to the Barringtons. Bridget is the heiress of the prominent plantation.

When Bridget's parent's discover the budding romance between their daughter and their servent, they quickly orchestrate her engagement to an older, more advantageous match. But Edward Moorehead has a secret. And he's anything but a good match for Bridget.

Separated from her true love and in danger from her betrothed, Bridget must rely on God to deliver her from darkness into light.
My rating:
Discussion Question:
Phillipe risked it all for love. Have you ever done that? What happened?
I think anytime you love someone, you're taking a risk. The example that comes to mind is having children. There's a quote by Elizabeth Stone that says, "Making the decision to have a child is momentous. It is to decide forever to have your heart go walking around outside your body."
Think about parents who have children with health issues. It's so heartbreaking, and we lived through it ourselves. My son was born with a congenital heart defect and had open heart surgery when he was four. It was the most stressful time period in my life. Praise the Lord that season is over, but for some parents the health issues and surgeries go on for years.
What's the alternative? To live life without ever loving anyone other than yourself (kids, a spouse, or a great aunt)? I think that's sadder than the heartbreak of losing a loved one.
Want to join book club for March?
Renee Ann has a poll up in the sidebar of her blog to choose the next book. And I think she's still looking for a host too.
Check it out!