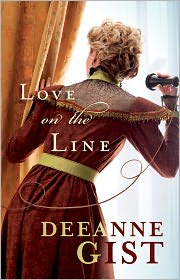 I spent the entire month of October on a non fiction bender. Travel books, memoirs, health and well being, you name it. For more than a month I had no interest in fiction, Christian or otherwise. Ever have a bout like that? It's probably perfectly normal for the average reader, but for an inspy book blogger it's the kind of dry spell that makes you wonder if you've lost your mojo.
I don't know if I'm all back yet, but I do know if
anyone
can inspire me to read inspy again, it's Deeanne Gist. And
Love on the Line
is classic Gist. It's got her trademark romantic tension, charming dialogue (my favorite scene was the "Can you hear me now?" conversation that put a turn of the century twist on a popular telephone commercial), and a headstrong hero who's not looking for love, but finds it anyway.
I can't say this was my favorite Gist title of all time (that distinction belongs to
The Measure of a Lady
), but it was a healthy dose of comfort food in the middle of my fiction famine.
P.S- I have a bone to pick....
One Amazon
reviewer
claimed
Love on the Line
wasn't Christian fiction. I beg to differ. There is no conversion experience in this story, but it is most definitely Christian fiction. The inspy isn't heavy handed or didactic, but it's a story about characters of faith. Gist writes their faith as naturally as she writes their character quirks. It's part of who they are and it's the lens through which they view their circumstances. What's wrong with Christian fiction just being a story about Christians?
Want more info? Here's the book blurb:
In 1904 Texas Ranger Luke Palmer arrives in Brenham, Texas, with one goal--to capture the gang of outlaws led by Frank Comer. Undercover as a telephone repairman, he uses his days on the range to search, not realizing there's another pair of eyes watching him.

Georgie Gail, switchboard operator and birder, heads out on a birding expedition, but instead of sighting a painted bunting, her opera glasses capture her telephone man, armed and far away from telephone lines. Palmer is forced to take this alluring troublemaker into his confidence and unwittingly puts her in harm's way. The closer he comes to the gang, the further she works her way into his heart--and into trouble. Soon it's more than just love that's on the line.
My Rating:
And the giveaway goes to:
Thanks for leaving comments on Deeanne's interview last month. The winner of my review copy is Andrea who said, "Thanks so much for the interview. Love to read DeeAnne's books and can't wait to read this one!!" An email is coming your way!