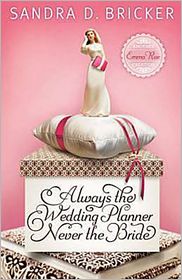 Sandra D. Bricker's 2010 release, Always the Baker, Never the Bride introduced readers to Jackson Drake, owner of The Tanglewood Inn, and Emma Rae Travis, the pastry chef destined to become his main squeeze. In Bricker's latest novel, Always the Wedding Planner, Never the Bride, Emma Rae takes a side role to welcome her old college roommate to the staff of The Tanglewood Inn.
THE SITCH: Sherilyn Caine couldn't be happier. Recently engaged to Andy Drummond, a sports physician from Atlanta, she's poised to step into a dream job working alongside her best friend. Life couldn't be better – unless she could fit into a smaller size.
Andy and Sherilyn decide to transplant their careers to Atlanta, but just as their professional lives seem to click into place, their wedding plans start to go awry. After a series of comic delays including disappearing wedding dresses, strange allergies, celebrity flirts, the reappearance of old flames, mangy mutts, and alternating cold feet, Sherilyn begins to wonder if her love for Andy is cursed by her past mistakes. And even as she helps each client achieve a perfect wedding, she wonders if she'll ever manage to pull off a wedding of her own.
TO READ, OR NOT TO READ?
There's a lot to like about this book, even for readers who've not previously visited The Tanglewood Inn. Sherilyn is a bouncy, smart heroine with a killer sweet-tooth and an attention to detail that borders on OCD. Her self-deprecating humor, mostly centered around the forty-eight pounds she's gained since last seeing tiny Emma Rae, makes her an approachable beauty with whom nearly any reader can identify. You can't help liking her.
Sandra Bricker does a commendable job maintaining the unique character voices from the first novel, but the author improved the pace this time around by winnowing down the page-time given to minor characters. Still, I found some of the physical descriptions in this book a bit lacking. The leads (especially Andy) were more difficult to visualize than some of the minor characters.
The plot moves steadily along, keeping the reader engaged. But whereas the beginning-of-chapter recipe and wedding-tip "interruptions" (I call 'em like I see 'em) in the first novel added a nice quirk to the book's character, the lengthy lists in Book Two quickly become tiresome and all too skim-worthy. The odd insertion of a few delicious-sounding recipes made my mouth water but, in my opinion, the recipes would have been more appropriate in Always the Baker (Book One) than in Always the Wedding Planner (Book Two). That being said, for those in the midst of planning a marital event of their own, I'd wager those lists will get more than a passing glance. In fact, this series would be a fun gift for a bride-to-be – it might even help her plan her own big day.
Although I found the multiple "announcements" near the end of the book to be a bit over-the-top on my cheese-o-meter, Always the Wedding Planner, Never the Bride is a sweet, enjoyable story filled with southern hospitality, womanly wit, and a whole lot of happy ever after.
(This review first appeared at the USA Today romance fiction blog, Happy Ever After)
PS: Make sure you come back next Wednesday (11/9/11) to check out my interview with author Sandra D. Bricker -- you'll be able to enter to win a copy of Always the Wedding Planner, Never the Bride!