A couple of weeks back I promised ya'all an interview with Sandra D. Bricker, author of
Always the Wedding Planner, Never the Bride
, but... oops. I went to a lovely marriage retreat in Georgia with my True Love and forgot to schedule the post! So, with my deepest apologies for this oversight, here it is (finally!) with a giveaway to boot! Enjoy this
sooo cute book trailer
, then close it out and learn more about the book's creator right here!
Now let's give a warm, Edgy Inspirational Romance Welcome
to author Sandra D. Bricker!
Q: You write about The Tanglewood Inn like you've been there. Is it based on a particular inn you've visited?
Sandra: In all the interviews I've done about the Baker books, no one has ever asked me that question! But YES! There is a place that The Tanglewood is based on. It's in San Diego, and it's called The Horton Grand Hotel. It's a charming little place in the Gaslamp District, and I used to run away from home when Los Angeles got too stressful. I always tried to stay in the same room (Room 210), and I would just dig in. Every room had a gas fireplace and was decorated differently in vintage, with antiques, and there's a journal in every room as well. Guests wrote about their hotel stays, and it was fascinating character research for someone like me. And remember that courtyard where Russell fell from the balcony? That's very real! And the bar is converted to a tea room in the afternoons, a a jazz lounge on Friday nights. I spent so much time there that it started to feel like home. I even wrote most of my first two novels there in Room 210.
Q: Since beginning this series, have you received any thank-you notes from Brides-to-Be for the helpful wedding tips you've included in each chapter?
Sandra: I've heard from several brides since Baker came out. My favorite feedback though was from a bride-to-be who asked if I'd consider planning her wedding!
Q: You did an admirable job keeping characters from Always the Baker true to their voices in Always the Wedding Planner but, with a cast that large -- and several new voices to contend with -- you couldn't keep them all. Who was the hardest character from Book One to leave out of Book Two?
Sandra: It was a challenge to create the sense of community that the book needed. But the saving grace for me was knowing that I would have two more books after Planner, and the characters that didn't have a lot of page time could always make up for it in later volumes. Emma's parents were my favorites from the first book that got much less story in the second one ... but I have plans for them! :-)
Q: I think I gained ten pounds while reading each of your books. Did you find your research to be a challenge to your waistline?
Sandra: Writing these books made me painfully aware of a major character flaw in me. I am REALLY susceptible to the power of suggestion! I write about brownies ... I want one! I mention red velvet cake, creme brulee, even hazelnut coffee ... and the cravings kick in.
Q: Who is more like you: Emma Rae Travis or Sherilyn Caine? Why?
Sandra: Well, Emma and I are both diabetics who are VERY fond of sweets. But I'm really much more like Sherilyn. Red hair, check. Weight problem, check. Detail oriented to the umpth degree, obsessed with chocolate, check and check. I don't think I really realized until I read the final draft how much of me ended up in Sherilyn's character.
Q: If you could invite one character from this series to your Thanksgiving celebration this year, who would it be? What would you ask them to bring?
Sandra: Well, hands down, it would be Emma. Thanksgiving would be appropriate to spend time with her since she's changed my life so much. And she would need to arrive at the door bearing CAKE, of course!!
Q: Describe your favorite of all the theme weddings you've written about or researched.
Sandra: When I was researching really unique, stand-out weddings, I saw one design that knocked my socks off. The theme was diamonds and, despite the fact that there were crystals and bling everywhere, it was so elegant and breathtaking. The only pop of color was sterling lavender. I've never seen anything else that got that kind of reaction out of me.
Q: Will there be a third book in this series? Who will be its main character(s)? And when will it release?
Sandra: There is a third and fourth book in this series! The next one, Always the Designer, Never the Bride, is about a struggling wedding dress designer who comes to The Tanglewood for the wedding of her best friend. The hero was introduced inPlanner -- J.R. Hunt, the tattooed motorcycle buddy of Russell Walker's. Audrey is a cool, edgy, tough-shelled match for him.
Designer will release next spring, and the fourth and final novel (Always the Baker, FINALLY the Bride) will follow in spring of 2013 when I get to give Emma and Jackson their happy ending at last! ... Or will I?? :-) In that final book, a lucky reader will get to help Emma choose her wedding cake, and that reader will be written into the novel as an actual character who has interaction with Emma Rae! Readers who are interested can find the details on my Web site (www.SandraDBricker.com) from November 1st through the end of this year.
Let's get personal:
Q: What's on your nightstand?
Sandra: My Kindle; my Bible, a pot of silk violets and a round vintage mirror that my mom used to keep near her bed; a bottle of water; Bath & Body Works brown sugar and fig lotion.
Q: If you are stranded in a fully-stocked igloo near the North Pole, you would want to have these three luxury items at your fingertips:
Sandra: My Kindle; my laptop; and my emergency kit that contains Lip Therapy balm, tinted moisturizer and an eyelash curler.
Q: What are you reading now?
Sandra: Sedona Storm by my friend Barbara Scott.
Q: Do you prefer gum or hard candies?
Sandra: I like that dessert gum from Extra. They have flavors like mint chocolate chip, strawberry shortcake and apple turnover. No surprise that I like fake dessert gum, right?
Q: Sherilyn is not a fan of dogs. Are you a cat person or dog lover?
Sandra: I love most animals, but I have a special soft spot for dogs. I volunteer for some dog rescue groups and raise funds for one in particular.
Q: When you were five and grown-ups asked you what you wanted to be when you grew up, you told them you wanted to be:
Sandra: At five, I told them I wanted to be a ballerina. But it wasn't long after that when I decided I wanted to be a writer. At that age, however, that meant I really loved my penmanship class and enjoyed the actual act of WRITING.
Thanks for coming over and visiting with us, Sandra! It's been a treat!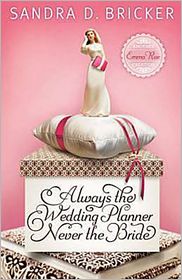 AND NOW, AS PROMISED... (DRUMROLL, PLEASE) ... we have a
Please leave a comment (below) telling me the colors (or theme) that would be featured in your dream wedding. Leave your comment between now and 11/20/11 and you will be entered to win a copy of Always the Wedding Planner, Never the Bride!
(and make sure to leave your contact info, as well!)