Here's a little bit about it before we talk more: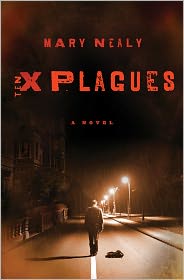 Ten Plagues
by Mary Nealy
A demon possessed serial killer acts out the Ten Plagues of Egypt on the city of Chicago.

An inner city mission pastor draws the attention of a madman and becomes the focus of his rage.

A lady cop with the spiritual gift of discerning spirits gets the case and is confronted with an evil unlike any she's ever known.
The pastor and the cop race to stop a murderer, knowing that the plague of the first born and the plague of darkness are being saved just for them.
A Rose by any other name will still alienate her readers if Lil Rosy steps too far outside her brand.
I love
Ten Plagues
. I think it's as fun as anything I've ever written. But it is
DIFFERENT
. And that's why I wanted the pseudonym. If you pick up
Ten Plagues
and ask yourself, "I wonder what state
THIS
cowboy's ranch is in?" you're in for a shock.
And I don't want you to be shocked. I want you to read it, but
KNOW WHAT YOU'RE PICKING UP. ALSO KNOW THAT ROMANTIC COMEDY WITH COWBOYS IS STILL MY FIRST LOVE AND THE NEXT ONE COMES IN FEBRUARY. ALSO KNOW THIS IS A ROMANCE. I THINK READERS WILL FORGIVE A ROMANCE NOVELIST ANYTHING IF THERE'S STILL A HAPPILY EVER AFTER
(that could be wishful thinking on my part).
This is me from back in the day when no one would publish my books and I was on a wild ride, writing whatever I wanted. Whatever entertained me. And this just entertained the stuffin' out of me.
So I was reading the Bible verse about the gifts of the spirit in 1 Corinthians 12--wisdom, knowledge, faith, healing, miracles, prophecy, discerning of spirits, tongues, interpretation of tongues.
And we've all heard of these and I've known people who had all of these…..except I was struck by the gift, discerning of spirits. And I wondered…what is that? I couldn't think of anyone I'd ever spoken to who claimed that gift. So I started playing that typical writer game of
what if
. What if you had that gift and someone walked up to you and you could discern a demon? What would you do? How would your life be impacted? What would it be like to have that gift?
So I created a woman with the gift for discerning spirits. And it's not just evil spirits. She can tell when someone has a particularly powerful spirit of faith, too.
So that's the foundation of my book. A lady cop with the gift of discerning spirits. And she is confronted with a crime that is awash in demonic evil, the worst, ugliest, most frightening spirit she's even known. A demon possessed serial killer who is acting out the Ten Plagues of Egypt on the city of Chicago.
An inner city mission pastor becomes the target of this madman's murderous rage. The pastor is a former Chicago police detective who stomped on my heroine's toes when they were both on the force.
Now Keren, my heroine, is forced to work with an old nemesis. She can sense the powerful goodness in him but she can't quite help wanted to kick him in the shins for what he did to her.
I did a lot of research into what the Bible has to say about demons and I wanted so badly to treat that with respect. I hope I succeeded.
Ten Plagues
ended up being a wild ride and I hope people enjoy reading it as much as I enjoyed writing it.
Email me: mary@maryconnealy.com
Find me online:
Seekerville
,
Petticoats & Pistols
,
My Blog
,
My Website
Mary Connealy writes romantic comedy with cowboys. She is a Christy Award Finalist, a Carol Award Finalist, a RITA Award Finalist and an IRCC Award finalist. She's the author of The Lassoed in Texas Trilogy, The Montana Marriages Series, and The Sophie's Daughters series.