One of my absolute favorite authors (read the backstory on my Deeanne Gist obsession here) is making a return visit to Edgy Inspirational Romance to chat about her new release and my favorite genre!
You pioneered the term edgy inspirational romance (my favorite genre!). Is that a label you still embrace for your work?
Yes, it is. Christian women--and in particularly our singles--are constantly faced with sexual temptation and they don't feel comfortable bringing up the issues of premarital sex and infidelity in their Ladies Bible Studies and small groups. I, however, can use Christian romance to reveal and deal with sensitive issues like these.
To do that successfully, however, I must have a bit more rope than our readers might be accustomed to, yet still being careful to glorify God. Therefore, I don't censure my characters at all. If they want to swear, I let them swear. If they feel desire, I let them feel desire. If they have uncharitable thoughts, I let them have uncharitable thoughts. Once I turn the book in, my editor lets me know what needs to be "toned down."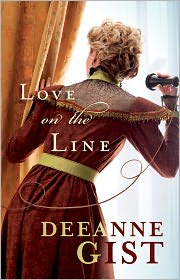 Tell us a little bit about Love on the Line.
Rural switchboard operator Georgie Gail is proud of her independence in a man's world…which makes it twice as vexing when the telephone company sends a man to look over her shoulder.
Dashing Luke Palmer is more than he appears though. He's a Texas Ranger working undercover to infiltrate a notorious gang of train robbers. Repairing telephones and tangling with this tempestuous woman is the last thing he wants to do. But when his stakeout puts Georgie in peril, he realizes more than his job is on the line.
What's the worst writing advice you've ever received?
Nobody cares whether the facts in your novels are accurate or not, they just want a good story. **NOT TRUE** Nothing puts readers off more than a book that hasn't been well-researched. And I'm not speaking just of historicals. I read a contemporary novel set in Houston where the heroine drove on an expressway. The author immediately lost credibility in my mind. Had he done the barest minimum of research, he'd have known we don't have expressways in Houston. We have freeways. Never underestimate your readers.
What's the best experience you've ever had with one of your fans?
I absolutely love getting to know my fans. After having such a blast with my readers at the Getaway With Dee last year, I've decided I want to do more "destination" type events. They provide us with so much time to hang out and have fun. My next Getaway With Dee will be in June of 2012 when we meet up at the RomCon convention in Denver, Colorado for a Titanic Tea and many other fun activities. Fans can go to
GetawayWithDee.com
for more details.
Three things on your bucket list?
Rest, sleep and a massage. :)
Readers can connect with Dee at her website, on Facebook, and on Twitter
.
It's giveaway time!
Leave a comment for Dee between now and October 31 for a chance to win my review copy of
Love on the Line
. Be sure to include your email address if it's not in your profile. Open to US residents only.