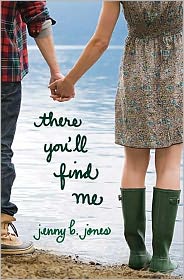 There You'll Find Me
, the new Young Adult novel from Jenny B. Jones, takes place in Ireland and features, as its protagonist, Finley Sinclair, a minor character from her
hil-ar-i-ous
grown up book,
Save the Date
.
You had me at "Ireland", Jen.
But wait! There's more: Not only does Finley get to go to Ireland, but she meets a cute guy on the plane -- a hunky little bite of Boy Candy who just so happens to be the star of several high-grossing vampire films.
Am I in?
Oh, yeah. I'm in! I'm in like shoulder pads in 1985. (And I have the photos to prove it.)
So here's the sitch, as written in the product description at Barnes & Noble.com:
THE SITCH:
In a small cottage house in rural Ireland, Finley is forced to face a past she can't outrun.
When Finley books her trip to the "Emerald Isle" as a foreign exchange student, she hopes to create a new identity and get some answers from God. After all, since her brother's recent death, God seems to have forgotten she even exists.
Now all she wants to do is let her heart heal, see the sights in her brother's favorite country, and work on her college audition piece for a prestigious music conservatory. She plans to use her brother's journal from his time as Ireland as her guide, yet from the moment she boards the plane and sits next to Beckett Rush, teen star of the hottest vampire flicks, nothing goes according to her well-ordered plan.
The peace and beauty of the Irish village are no match for the chaos that soon becomes her life. When she gets roped into working as Beckett Rush's personal assistant, she finds this famous wild child is not quite what he seems. And as she grows closer to the mysterious actor, her own secrets refuse to stay put.
As things begin to unravel, Finley takes desperate measures to control her own life and fill the empty spaces her brother left behind.
When it all comes crashing down, Finley must discover how to give her past to God . . . if there's to be any hope in her future.
HOW IT HIT ME:
Like a rosy red apple, tossed off an Irish cliff, and into the dark, salty sea.
In other words: each juicy bite of the story was sweet, the characters were crisply drawn, and the setting was both beautiful and alive. Finley's glances over precipice of grief -- and into the mystery of what life should look like after losing someone you love -- was achingly true. As her obsessions grow, the tension mounts, subtly tugging the heart of the reader.
(And of all the sweet, juicy things in the world, why did I pick an apple? Well, you try reading about Beckett Rush and not having at least one Twi-thought go through your mind!)
Although I'm quite used to giggling my way through a Jenny B. Jones novel, I never thought she would make me cry. But There You'll Find Me caught me by surprise. I laughed, I cried, I couldn't put it down.
Tissues, please!
TO READ, OR NOT TO READ; THAT IS THE QUESTION:
Finley's character spins off the success of
Save the Date
(my review
HERE
), which released as an Inspirational Romance for adults last February. Even though There You'll Find Me is being marketed to a teen audience, however, the humor, romance, and vivid characters of this stroy simply defy an age-definitive market. There You'll Find Me will capture the hearts of "older girls" like me as easily as it will enthrall the teens at which it was aimed.
Well, of course you are going to read it. You can't wait to read it, can you? It is flying into your Amazon cart as soon as you finish reading this post, right? Read it.
AND FINALLY, IN THE WORDS OF INIGO MONTOYA:
"No, there is too much. Let me sum up."
There You'll Find Me juxtaposes loss and grief against a magnificent landscape of smart and funny characters. Written in poignant, first-person prose (with generous helpings of snort-worthy snarkiness), this novel will have you grinning, laughing, aching, and crying along with Finley as she discovers the truths, as well as the lies, informing her sense of self -- and her sense of God -- in Ireland.
(most of the above review originally appeared at USA Today's
Happy Ever After
romance fiction blog. I have tweaked it a bit for ya'll, but I must give credit to the peeps who pay me!)
Serena's Rating: