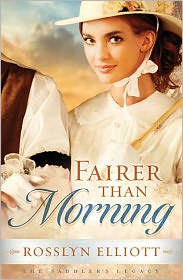 Fairer Than Morning
by Rosslyn Elliott is the story of indentured servant Will Hanby, who learns to trust the Lord in all circumstances.
The behaviors of supporting characters in this novel were often shockingly amoral and cruel and for the first time in a while I found myself grateful I didn't live in historical times when duels to the death were appropriate ways to find justice and when people could legally sign away their rights as a person.
I fell in love with Will as a hero. Though he was both malnourished and malodorous at the beginning of the story, by the end he was the kind of man you'd want to sweep you off your feet, honorable and brave lacking any noticeable B.O. (always a selling point for me).
Elliott's debut was a compelling read, with an ending I had a hard time predicting- and romance is not usually known for being unpredictable. I look forward to reading her future work.
Want more info? Here's the book blurb:
Ann dreams of a marriage proposal from her poetic suitor, Eli-until Will Hanby shows her that nobility is more than fine words.

On a small farm in 19th-century Ohio, young Ann Miller is pursued by the gallant Eli Bowen, son of a prominent family. Eli is the suitor of Ann's dreams. Like her, he enjoys poetry and beautiful things and soon, he will move to the city to become a doctor.

Ann travels to Pittsburgh, accompanying her father on business. There she meets Will Hanby, a saddle-maker's apprentice. Will has spent years eking out an existence under a cruel master and his spirit is nearly broken. But Ann's compassion lights a long-dark part of his soul. Through his encounters with Ann's father, a master saddler, Will discovers new hope and courage in the midst of tremendous adversity.

When the Millers must return to Ohio and their ministry there, Will resolves to find them, at any cost. If Will can make it back to Ann, will she be waiting?
My rating: