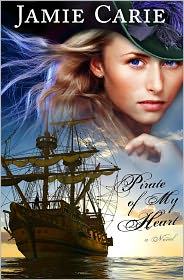 You may not know this about me, but I am a complete nut for All Things Pirate. When I see the word "pirate" anywhere -- especially on the cover of a book -- I pause for a second look. The cover of Jamie Carie's latest novel certainly gave me pause. So I got the book, planning to use it in conjunction with my National Talk Like a Pirate Day post, and... didn't.
I read the novel in plenty of time to complete a review for the September 19th "holiday" post, but... the book contained very little actual pirate action and seemed entirely inappropriate for the occasion. The hero? Not a pirate. The heroine? Also, not a pirate.
So... where are the bloomin' pirates????
Well, they are in there, but... not as prevalent as I'd hoped.
I'd expected a swashbuckling adventure on the high seas -- a moving, edgy, and romantically well-crafted tale from an author whose work I have dearly loved reading in the past. But avast, me hearties! I must admit: I was doomed to be disappointed. There was barely any swashbuckling to speak of -- and the pirates that did appear were much less charismatic than the legends would have us believe.
Aarrrgh.
I'm not proud of it, but I judged this book by it's piratical title and cover art. I expected dashing rogues and adventure and... well... more pirates! But, alas... I should have read the back cover copy. That is, after all, what it's there for.
THE SITCH:
(from the Barnes & Noble product description)
(and, very likely, the back cover, too. But I wouldn't know.)
When her doting father dies, Lady Kendra Townsend is given a choice: marry the horrid man of her cold, money-grubbing uncle's choosing or leave England to risk a new life in America with unknown relatives. Armed with the faith that God has a plan for her, Kendra boards a cargo ship and meets American sea captain Dorian Colburn. But the captain has been wounded by a woman before and guards his independent life. A swashbuckling man doesn't need an English heiress to make him slow down, feel again, or be challenged with questions about his faith-or so he thinks. It is not until Dorian must save Kendra from the dark forces surroundi
ng he
r that he decides she may be worth the risk.
So: it wasn't the genuine pirate adventure I'd hoped for, but it was a sweet and light historical romance that I was still able (though disappointed) to enjoy. Even though I did appreciate the romance of the story, I had a few problems with some of the wine and cheese moments* along the way.
1. The heroine was somewhat brave, but not all that daring; so when she was daring, I wasn't quite sure I believed it.
2. Additionally, there was a
serious
flood of the word "smolder" -- in several derivatives -- in reference to a gaze, a look, his eyes, etc. (It made me cringe-- and giggle a bit -- thinking of Eugene from Disney's
Tangled
saying, "
Here comes the smolder.
")
3. And finally, the ending was very... tidy. A little too conveniently tidy for my taste. But I suppose that is somewhat subjective.
But, my pirate-fetish disappointment aside, this was an enjoyable romance to read, even with a few spare helpings of wine and cheese.
I have read several of Jamie Carie's previous novels and have been wowed by her storyweaving craft. That being said, I did not feel this particular novel was quite up to the standard of quality and originality I've come to expect from such a talented author. But -- and there is that persistent BUT again -- it was an enjoyable light romance -- a perfect lazy-weekend read. As long as you're not expecting a jolt of Captain Jack Sparrow (or, better yet, Will Turner!) I would readily recommend this novel.
If you're in the mood for a pleasingly sweet, light romance, pick up Pirate of My Heart by Jamie Carie and pass the afternoon with Captain Dorian and Lady Kendra.