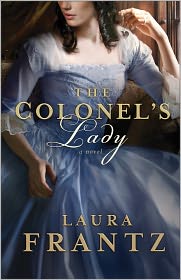 I'm a little late to the Laura Frantz party, my book blogging friends have been singing her praises for a while. But now I see the appeal. I found her writing style lyrical and poetic and reminiscent of another one of my favorite authors, Tamera Alexander.
The Colonel's Lady
is the kind of novel you'll want to savor on lazy Saturday afternoon (even if your lazy afternoon means reading a good portion of it in parking lots while playing family chauffeur). Whether you can while away a rainy day on your sofa, or have to sneak it in between running errands, I must insist you read this book.
Set in a backdrop of the Revolutionary War,
The Colonel's Lady
was about the relationship between Colonel Cass McLinn and Roxanna Rowan, the daughter of one of his slain soldiers. The relationship between Roxanna and Cass may have been forged on a deathbed promise, but it grew in intensity as the story progressed until it mirrored the colonel's intense personality and the intensity of his kisses.
Yeah, there was some *really* good kissing in this book (that alone might be enough for some of us to go storming the bookstores, eh?). But throw in a few plot twists readers won't see coming, and a climatic battle at the end, and you've got a recipe one of the best historical romances of the year.
Well done, Laura Frantz. I'm looking forward to reading your backlist.
Want more info? Here's the book blurb:
Can love survive the secrets kept buried within a tormented heart?

Roxanna Rowan may be a genteel Virginia woman, but she is determined to brave the wilds of the untamed frontier to reach a remote Kentucky fort. Eager to reunite with her father, who serves under Colonel Cassius McLinn, Roxanna is devastated to find that her father has been killed on a campaign.

Penniless and out of options, Roxanna is forced to remain at the fort. As she spends more and more time with the fiery Colonel McLinn, the fort is abuzz with intrigue and innuendo. Can Roxanna truly know who the colonel is—and what he's done?

Immerse yourself in this powerful story of love, faith, and forgiveness set in the tumultuous world of the frontier in 1779.
Available August 2011 at your favorite bookseller from Revell, a division of Baker Publishing Group. Thanks to Revell for my review copy.
My rating:
Linking up with: