You are cordially invited to join me and a few of my blogging friends in a special
Waterfall
read-along (or in our case, a
Waterfall
re
read-along). Just in time for the release of
Torrent
we're revisiting how it all began!!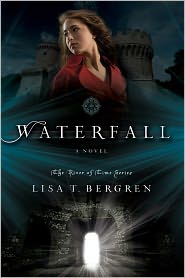 For the next five Wednesdays, we'll be reading and discussing one of my favorite books of 2011. Check in at these blogs every Wednesday to link up your discussion and to find the following week's questions.
Here's the schedule
:
August 31
- Prologue & Chapters 1-6 Host: Tina at
Tina's Book Reviews
September 7
- Chapters 6-11 Host: Missie at
The Unread Reader
(Grab our logo button from Missie!)
September 14
- Chapters 12-17 Host: Joy & Serena at
Edgy Inspirational Romance
September 21
- Chapters 18-23 Host: Jenny at
Supernatural Snark
September 28
- Chapters 24-28 & Wrap-Up Host: Nic at
Irresistible Reads
We want you to join us!! Link up your post with Tina's announcing the read-along, acquire your copy of
Waterfall
and read chapters 1-6. The first five questions are posted at
Tina's Book Reviews
and will be discussed on August 31, 2011.
And bonus! Lisa Bergren has offered to giveaway the entire Rivers of Time Series to one lucky participant from each discussion week!! Whooo-hooo!
Who's in??