The Kensington Chronicles, by prolific author Lori Wick, are my most frequent escapist re-reads. In the middle of winter (or fall, or spring, or summer) when I'm sick and miserable and feeling ugly and gross, these are the books to which I turn. They brighten my heart with dashing, but faulted leading men (okay, Brandon isn't all that faulted, but he is yummy), strong, but faulted young women (okay, they aren't all that faulted, but they have heart), adventure, romance, and redemption (yep. everyone we care about comes to Jesus. I'd call that a spoiler, but that was the way it was across the board in this genre when these books were new!) And when I most need it, these novels provide me with the feel-good sighs of visiting a fairytale-like depiction of Medieval (Book 4, but chronologically book 1) and Regency (Books 1, 2, & 3) England.
Here are the quickie (but somewhat pzazz-lacking) blurbs I found on Amazon.com:
The Knight and the Dove: When the King commands Bracken to marry, high spirited Megan is chosen to fulfill the edict. Unskilled in the ways of love, Bracken finds Megan captivating, yet cannot seem to voice his feelings until he almost loses her forever.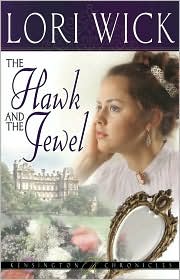 The Hawk and the Jewel: Everyone thought little Sunny had perished with Lady Gallagher in storm tossed seas off the Arabian coast, but the beautiful toddler had been found, taken to the palace at Darhabar, and raised as the ruler's own child. Now the emir, Ahmad Khan, is sending her home, and Sunny's uncertain new life is completely in God's hands.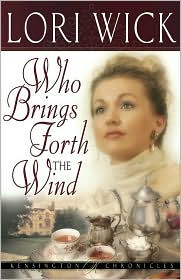 Who Brings Forth the Wind: Tanner Richardson, the volatile Duke of Cambridge, finds his wife with another man. Misinterpreting the situation, he erupts in a rage and throws her and their unborn baby out. Tanner's rage smolders until the night he is shot...
The Wings of the Morning: Victoria "Smokey" Simmons stands silently on the deck as her father's body is lowered into the Atlantic, asking God for the strength she will need to command the Aramis alone. Not wanting to remain at sea forever, Smokey dreams of the time she can trade her life aboard ship for a home and family. When she meets another Captain, Dallas Knight, Smokey believes her dream will finally come true. But circumstances beyond their control and schemes of a cunning pirate threaten to destroy the young couple's hope for the future.
Yes, I love these sweet, silly books. When I first read this series it was the edgiest new thing in the squeaky-clean Christian Romance genre.
BUT...
Back-in-the-day, these novels had
waayyyy
different covers than what's currently available. And, although I know mine are dated, I fell in love with these particular books (and, to some extent, the characters depicted on their covers) a long time ago. Therefore, I feel justified in "pshaw-ing" and "Huh--wha?!-ing" at the cover designs of the new editions. I mean,
really
, check it out -- compare my books (below) to the new covers (above):
Yes, I know mine are kind of dated and cheesy, but I still can't quite come to terms with the new (still cheesy!) covers. They bug me.
Here's why:
The Knight and the Dove: On the new cover, Megan doesn't appear remotely Medieval. She looks like a contemporary college girl.
Who Brings Forth the Wind: On the new cover, Stacy looks cold and rich -- so unlike her character. She looks a bit too modern, too; like she should be on some new show like "The Real Housewives of Upper Manhattan"
Wings of the Morning: This is the worst, in my opinion. On this new cover, while Smokey looks ready to celebrate her 4oth birthday right after she closes a corporate deal, she doesn't at all resemble the 20-something Captain of the fastest ship on the sea portrayed in the book.
But the most important lack of all these new covers: WHERE ARE THE BOYS???? None of the hunky gents from the books are to be seen ANYWHERE on these new covers. (Although, in all fairness, I thought the illustration of Bracken on Book 4 (book 1 chronologically) made him look like a medieval cave man and not-at-all attractive.) Maybe I'm biased, having dipped the corners of these cheesy, early-1990s illustrated covers in my bathwater so many times, but... really?
Still, if you're not embarrassed to be seen reading them (and lets face it, girls: that's a hurdle we have to jump quite frequently when reading romance novels -- specifically Christian romance novels) you can probably find them at your local public library; or, if you are lucky enough to be able to get them on an e-reader (all are available on Kindle, but much more risky to take with you into a bubble-filled tub than a print copy), then, by all means, give yourself permission to read these indulgent yet redemptive escapist romances.
Although there is nothing in these novels to make your brain hurt (or even strain), they are fun, quick reads of pure indulgence and, in my opinion, Golden Oldies. I recommend pairing these books with soft piano, good chocolate, and a candlelit bubble bath.