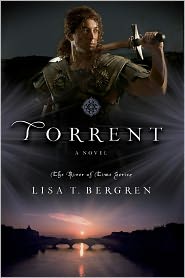 It's not easy to write a spoiler-free review for the third book in a series -- especially considering how the preceding novel left readers hanging, drooling, and begging to know what was going to happen next! But because I've loved traveling to medieval Italy with Gabi and Lia (
I'm practically in mourning at the thought that my adventures with The She-Wolves of Siena could be coming to an end
) I'm bound and determined not to spoil the journey for those of you who have not yet dipped your hearts into the River of Time.
THE SITCH:
(from the back cover of Torrent)
"Hold tight," I said. "No matter what happens, do not let us go."
"We won't," my dad said.
"Never," Mom added.
And with a look at Lia, we laid our hands upon the prints.

Gabriella and Evangelia Betarrini are just two normal American teenagers. Normal except for the fact that they time-travel to fourteenth century Italy, where they've lived in castles they've seen as crumbling ruins, been swept up in historic battles, and fallen in love with handsome knights willing to do anything to keep them alive.

They've returned to the present to save their father, just short of his tragic death,and now all four return to the place that holds the girls' hearts, medieval Italy. But remaining there means facing great risk as the battle for territory wages on and the coming Black Plague looms. Can they convince their parents to stay and leave behind everything they've worked so hard to accomplish? And will the girls sacrifice their futures in an uncertain past? Or, in facing death head-on, will they discover life as it was always meant to be lived?
HOW IT HIT ME:
Like a white-knuckled fist clutching a bouquet of wildflowers, it slammed violently into my imagination and grabbed hold of my heart.
In other words, it took my breath away.
Torrent
is a white-knuckle romance that tips the scales of awesome.
'nuff said.
WHAT MADE ME SQUIRM:
Lord Greco
.
Sure, we met him in
Cascade
-- but who is this guy...
really
?
In
Torrent
, Lisa T. Bergren keeps her reader guessing right along with Gabi as to the nature of this enigmatic character:
Is he one of the Good Guys?

Maybe.
One of the Bad Guys?
Umm... maybe.
A friend?
Sometimes.
A foe?
More often.
A tortured but romantic soul?
For sure.
Hot?
You bet.
Made my knees a little weak?
Mm-hmm.
Wish I was Gabi?
Oh yeah.
Lord Greco is a perfectly romantic villain -- and, also, the consummate mysterious hero...
or is he???
Of course
I love Marcello
best, but since I have a certain weakness for romantic bad boys, I heartily believe that somewhere in the annals of fictitious history, Lord Greco is listed quite officially as, "Lord Greco: The Hotness of Firenze."
So, enough about Lord Greco.
TO READ, OR NOT TO READ; THAT IS THE QUESTION:
If this novel is not in your Amazon cart in the next thirty seconds, I am totally not speaking to you anymore!!! Okay, I'm kidding. (A little.) That may be laying it on a bit thick, but... you should really read this book. (After you've read the other two, of course.)
Inserting fresh intrigues, new twists, and secret brotherhoods into the third installment of this romantic adventure, the author grows the presence of newer characters (like Lord Greco, see above) and forces the existing cast (especially Gabi) to mature emotionally through adventures of both a physical nature and of the heart.
I don't know what it is about these novels that makes me love them so dearly. Is it the author's fantastic craft? The heart-twisting imagination? The dashing Italian knights? The feeling that, at any moment, anyone -- or
everyone
-- I've grown to love over the course of these three books could
die
? Well, it's all that and so much more.
It's love.
Honest-to-goodness, true book love -- for
Torrent
, as well as
Waterfall
and
Cascade
, the other two books in the River of Time series.
Read it. Unless your heart is made of stone or play-doh, I guarantee you'll love it.
AND FINALLY, IN THE WORDS OF INIGO MONTOYA:
"No, there is too much. Let me sum up."
Torrent
is the perfect conclusion to this trilogy -- not only because it satisfies on every level, but because it keeps you hoping that the younger She-Wolf of Siena (Lia) will get a series of her own sometime soon. (
Hint, hint, wink, wink to Lisa T. Bergren and the Publishing Powers That Be
.) I adore these books and plan to read the entire series again (make sure you join us for
Waterfall Wednesdays
-- beginning this week!) as soon as I get the chance!
Rapturous romance and spine-tingling adventure await you within Lisa T. Bergren's medieval Italy, so don't wait another minute to let yourself get swept away by the River of Time.
Serena's rating: