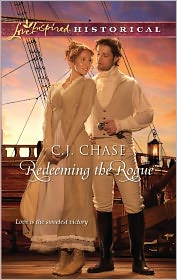 Redeeming the Rogue
is a Regency by C.J. Chase whose plot propelled me forward.
Someone's trying to kill Mattie Fraser. I spent the entire book trying to figure out the identity of the big bad with virtually every character under suspicion, but ultimately came away completely surprised. Kudos to the author for keeping me guessing.
The spiritual arc in
Redeeming the Rogue
well written and tied in perfectly with the romance. Mattie is a gutsy heroine from a broken family, Kit is a man of intrigue carrying a few demons from the war. For any hope of a future together they must each let go of the past and forgive the unforgivable.
Complex characters, unexpected twists and light romance makes
Redeeming the Rogue
the perfect book to stash in your beach bag this summer.
Want more info? Here's the back cover blurb:
Her Ally…or Her Enemy?

With a chip on her shoulder and a pistol in her pocket, Mattie Fraser comes to London determined to find answers. What fate befell her brother after he was forced to join the British navy? Military official Kit DeChambelle knows something, she's sure. But can she trust him—or anyone— as a conspiracy of silence surrounds her?

Kit knows altogether too much—about the guilt that drives Mattie, and the peril she faces. The battle against Napoleon is over, but for Kit, peace is elusive. In helping this brave, stubborn woman, he may be endangering her further. Especially if she learns about the orders he's received, placing them on opposite sides…
.
My rating: