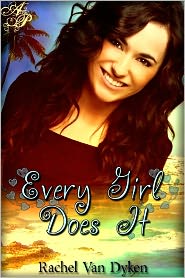 If you follow my blog, you know I'm a sucker for snarky humor. I'm excited to tell you I found an author to watch! Rachel Van Dyken has a fun, sassy voice and Every Girl Does It was an easy, humorous, read with several snort-out-loud moments. Van Dyken's chick lit style kept me flipping the pages.
Occasionally her humor hit a wrong note and the bickering between her hero and heroine was a little overdone, but I whizzed through this book in only a few hours which is a testament to the author's engaging voice.
Van Dyken is clearly an author who brings the funny and I look forward to watching her craft develop. I have a feeling she'll be joining the ranks of Kristin Billerbeck or Jenny B. Jones one day (you heard it here first).
Want more info? Here's the book blurb:
Amanda turned down Preston's prom invitation in front of her entire high school, but that was eight years ago.

Somehow, her past mistakes always have a way of catching up with her, and making her pay. Amanda's sarcastic wit mixed with Preston's insufferable ego make sparks fly in more than one way.

Preston, against his better judgment can't fight the desire to get under Amanda's skin and mercilessly tease her, but when that teasing becomes flirting, and flirting becomes something dangerously more, neither of them are prepared for the adventure that follows.
My rating:
(I received an advanced review copy in exchange for an honest review and although I noticed typos, they are typically fixed before the final version is released).