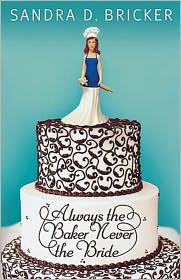 THE SITCH:
(from the back cover)
They say you can't have your cake and eat it too. But who would want a cake they couldn't eat?

Just ask Emma Rae Travis about that. She's an award-winning baker who is diabetic and can't enjoy her own confections. When Emma meets Jackson Drake, the escapee from Corporate America who is starting a wedding destination hotel to fulfill a dream that belonged to someone else, this twosome and their crazy family ties bring new meaning to term "family circus." The Atlanta social scene will never be the same and neither will your sweet-tooth cravings.
HOW IT HIT ME:
Like the second bite of a crème brulee-filled cupcake which as been frosted with butter cream. and topped with a fondant man's tie.
In other words, it was a fun, sweet tale with a nutty richness at its core; but as a reader I was surprised to find I connected more with Jackson's point of view than Emma's.
WHAT MADE ME SQUIRM
***Keep in mind that I read the e-book version and this comment does not (hopefully!) apply to the print version of this novel. ***
In my electronic version of this novel (from Amazon, read on Kindle) a specific and significant formatting error occurred throughout the text. Within a dialogue-heavy scene, a second character would speak, but that speaker's quote was placed on same line as the first speaker, making it appear, incorrectly, as if the original speaker was answering his own question or commenting on his own comment.
–shudder--
I felt this was a significant distraction from enjoying the book. It caused the reader (me) to jolt out of my suspension of disbelief, go back, reread, and try to figure out who was speaking and go
"huh?"
a lot. I felt this error upended the whole scene and, as it was repeated frequently within the book, took away from the professionalism of the whole of the work. Had this been an ARC or a galley copy, I wouldn't have given it a moment of consideration – I would have assumed this would be fixed before publication. But this wasn't an ARC or galley – it was the real deal that people pay real money to download to their devices -- and, therefore I felt I needed to include it in this review.
– However –
I am giving the editors the benefit of the doubt and chocking it up to "formatting errors" and the difficulty of "transposing material across technologies."
And, as an aside, I feel
really
bad for the author, whose hard work on this book could be marred by a technological hiccup. I hope the publisher and Amazon fix this fluke quickly.
TO READ, OR NOT TO READ; THAT IS THE QUESTION:
Always the Baker, Never the Bride
is a fun, quick read for those days when you're hungry for a slice of romance. Like an artful confection, however, the author has hidden within her tale two contrasting threads of marital grief which, when observed from the other side, compliment the overall flavor of the story.
Although I found the quantity of minor characters a bit superfluous at times, many scenes brought a smile to my face and a few heartfelt lines gave me thoughtful pause.
This is a very sensual book -- but not in a sexual way (although one particular kissing scene made my knees a little weak!) As Emma describes her confections – especially considering she is diabetic and only allows herself the tiniest taste – your mouth will water. Through culinary descriptions and character reactions you will be able to see and smell Emma's bakery creations and, if you are a sugar fiend like me, you will want to eat them, too.
To make me fatter, apparently, the author has provided actual recipes (Stop. It! My thighs are already busting at the seams!) as well as helpful wedding hints and fun trivia between chapters.
Yum
.
AND FINALLY, IN THE WORDS OF INIGO MONTOYA:
"No, there is too much. Let me sum up."
Always the Baker, Never the Bride
is a tasty, "beach book"-type read; a fun book for anyone who likes a light inspirational romance. *** IDEA ALERT!!!! This novel would make a great addition to a bridal shower gift basket. (But only if the shower is far in advance of the wedding! – there are some great tips in here for ceremonies and receptions.)***
Featuring characters whose hearts are in need of restoration and renewal, Ms. Bricker has liberally dusted her story with sweetness to bring a palate-pleasing romance to life.
Serena's Rating:
Reviewed by Serena Chase
Follow me on Twitter @Serena_Chase