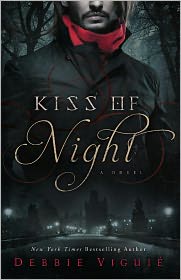 I couldn't wait for FaithWords to release info on this blog tour because
Kiss of Night
has been on my radar for several months now! And don't confuse this title with
Forsaken
which I blogged about last week, there are no Amish people in this book.
Kiss of Night
by Debbie Viguie, the first in a new Christian vampire series from FaithWords, releases October 7. The blog tour runs October 3-7. Are you interested in participating? Quick, sign up
here
! There are limited spots available. A FaithWords publicist will be in touch by the end of July.
Want more info? Here's the book description:
While visiting Prague for her beloved grandmother's funeral, Susan meets a dark, mysterious man to whom she feels an instant and mesmerizing attraction. The man -- Raphael -- is a vampire, cursed for his sins to roam the earth for eternity. He needs Susan's help in a secret war against evil in a supernatural world that Susan never believed existed until now. Together, they are called on to exercise both courage and faith. KISS OF NIGHT ultimately asks the question: What would happen if a vampire truly accepted God?