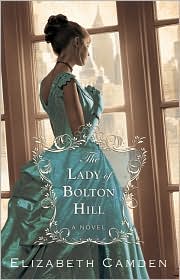 Daniel and Clara are childhood friends torn apart before their sparks of romance could ignite. When they cross paths twelve years later the heat between them creates an inferno on the page. The romance in
The Lady of Bolton Hill
got so steamy- for a minute there, I thought it might be headed in a whole different direction. Rest assured, we don't cross out of Christian fiction territory, but if you are a fan of edgy inspirational you'll enjoy the romance in this one.
There was much for me to love in this book and I finished it in one sitting. The whole labor and union plot line reminded me a little bit of the series
North and South
and once that image popped into my head, I couldn't help but picture Richard Armitage as Daniel. This isn't a book boyfriend post, but if we were playing, he'd soooo be my pick.
If I had one criticism of the novel, it would be that Clara seems to don a
Super Christian costume to convert the lost. The reader doesn't actually see spandex, but Clara must have worn it underneath her dress because she wields an unbelievable power of persuasion over the unchurched.
But in my experience a good romance covers a multitude of sticky plot points (or in this case a
single
sticky plot point). And the romance in
The Lady of Bolton Hill
was
very good
. If you're anything like me, you'll still be thinking about the tingling in your tummy long after you put the book down.
Elizabeth Camden, welcome to my must read list.
Want more info? Here's the back cover blurb:
When Clara Endicott and Daniel Tremain's worlds collide after twelve years apart, the spark that was once between them immediately reignites into a romance neither of them thought possible.

But time has changed them both.

Daniel is an industrial titan with powerful enemies. Clara is an idealistic journalist determined to defend underprivileged workers.

Can they withstand the cost of their convictions while their hearts-and lives-hang in the balance?
My rating: