For Celebrity Review Week, I turned the camera around on three Christian fiction authors we love and asked them to review books of their choice. Julie Lessman is here today to review Surrender the Heart by MaryLu Tyndall.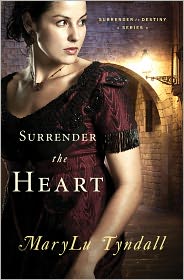 THIS WOMAN KNOWS HOW TO WRITE ROMANCE!!
I love romantic tension, and when I pick a book to read for pleasure, MaryLu Tyndall is ALWAYS at the top of my list. As a romance author myself, I'm pretty particular because I don't have a lot of time to read. When I do, I want an action-filled plot with lots of twists and turns and flesh-and-blood characters that grip my heart, something Ms. Tyndall delivers … every … single … time! And did I mention passion? Because MaryLu Tyndall races the pulse with some of the best in the Christian market today, both spiritually and romantically.
Surrender the Heart
is the first in her "Surrender to Destiny" Series and if even possible, my favorite so far, which is saying something because everything this woman writes is a favorite of mine. From the very first line ("I would rather boil in oil than marry Noah Brenin."), I was riveted by this engaging and fast-paced tale of a reluctant bride-to-be who becomes an unwilling stowaway aboard her "fiance's" merchant vessel during the War of 1812. No love is lost between Marianne Denton and her equally reluctant intended Noah Brenin, but when Noah's ship is captured by a British man-of-war vessel and its crew impressed into the British navy against their wills, the unwelcome engagement is the least of their problems. With skillful ease, Ms. Tyndall not only carries Marianne and Noah away on the heart-pounding high-seas adventure of their lives, but the reader as well, forcing all to "surrender" to her undisputable talent as a master storyteller—sweet "surrender," indeed.
Julie's rating:
About our celebrity reviewer:
Julie Lessman is an award-winning author whose tagline of "Passion With a Purpose" underscores her intense passion for both God and romance. Winner of the 2009 ACFW Debut Author of the Year and Holt Medallion Awards of Merit for Best First Book and Long Inspirational, Julie is also the recipient of 13 Romance Writers of America awards and was voted by readers as "Borders Best of 2009 So Far: Your Favorite Fiction".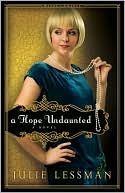 She resides in Missouri with her husband, daughter, son and daughter-in-law and is the author of "The Daughters of Boston" series, which includes A Passion Most Pure, A Passion Redeemed, and A Passion Denied. Her "Winds of Change" series has recently released with A Hope Undaunted, which ranked #5 on Booklist's Top 10 Inspirational Fiction for 2010. You can contact Julie through her website at www.julielessman.com.