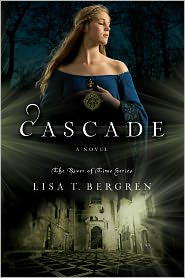 Last week I got a really nice email from a super groovy book-promoter asking if I would review
Cascade
, Book Two in Lisa T. Bergren's
River of Time
series. I yawned, flipped through some old emails, then thought, "Oh, sure. Why not." and emailed her back that I would be glad to review this novel… if I could fit it in between naps.
As if
.
For anyone who read my review of
Waterfall
(Book One in this series), your sarcasmometer probably just started squawking because you know that the exact opposite thing occurred. In truth, when I received this particular review request, I squealed very loudly and about peed myself.
And I'm not ashamed to admit it, either.
I
loved
WATERFALL
– and, since I couldn't wait to get my hands on the sequel, I wasted no time replying to the groovy book-promoter. I typed my very professional version of a "YES! YES! YES!" response as fast as my fingers would fly and, although, I received the book too late in the evening to start it, I read
CASCADE
in its entirety the following day. And I've got one word to say:
Awesome
.
THE SITCH:
Cascade
takes off right where
Waterfall
left off (if you haven't read Book One of the
River of Time
series, what are you waiting for??? In the meantime, please see
my review
of
Waterfall
for those details!) Seventeen-year-old Gabi Betarrini and her fifteen-year-old sister, Lia, are back where their adventure began. Still dressed in the silken gowns in which they'd been attired in Medieval Italy, they are at their mother's modern-day archaeological dig amidst Italy's Etruscan tombs. There's just one problem: Gabi left her heart in Medieval Italy and she can't stay in the present– not when Marcello, the young knight she loves, remains in danger.
Convincing their inquisitive, scientific mother to travel back in time with them is difficult, but the story doesn't linger in the present long. When the three Betarrini women arrive back in Medieval Italy, Gabi and Lia find their fame has grown, their names are at the top of the enemy's Most Wanted list, and that they are faced with the challenge of figuring out which enemies are masquerading as friends – and which enemies could be friends in disguise… or not.
It's a lot for a pair of teenagers to deal with, but with swords, bows, and a couple of hunky Italian knights at their side, they might just make it out alive.
HOW IT HIT ME:
Like an arrow as it's fired through the strings of a harp and into the heart of someone threatening a person I love.
In other words, Ms. Bergren was true to her characters voices, true to the emotion of each moment, and true to the violent nature of the times. But through it all she captured the essence of the romance(s) within the story with beauty and finesse.
WHAT MADE ME SQUIRM

"Oh no you didn't!" Another cliffhanger at the end?
And Torrent
won't be released until September?????
Lisa, you're killing me here!!!!
(In a good way.)
TO READ, OR NOT TO READ; THAT IS THE QUESTION:
I love this series. I
adore
it. And so does my (almost) fourteen-year-old daughter. Lisa T. Bergren is setting the bar for teen Christian Romance, writing this ongoing tale so well that it could cross seamlessly onto Mainstream bookshelves. And I hope it does. Even if you scoff at something written for teens, you will love it. And you will salivate along with me for the release of
Torrent
in September.
So what are you waiting for? Read
Cascade
, by Lisa T. Bergren as soon as you can get your hands on it. (But read
Waterfall
first, of course, if you haven't yet!!! These are not stand-alone titles!)
Read it. READ IT.
READ IT
!!!
AND FINALLY, IN THE WORDS OF INIGO MONTOYA:
"No, there is too much. Let me sum up."
This series is humorous, romantic, and packed with surprising twists of action which keep the reader glued to the page. As a bonus, it is a Christian novel -- but the writing is so refreshingly preach-less that Christian teens (and grown-ups!) don't have to grimace as they hand it to their non-believing friends. Brava!
Cascade
, by Lisa T. Bergren is a fantastic, engrossing tale of adventure and love that will have your knuckles whitening, your face grinning, and your heart singing a soft Italian love song long after the final (cliffhanging!) page is turned.
Serena's rating:
Reviewed by contributor Serena Chase
Follow Serena Chase on Twitter @Serena_Chase