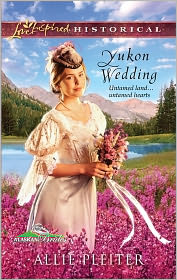 Every once in a while it strikes me that I earn my living making other people miserable.
Yes, they fictional people, and if I do my job right I make them as happy as I've tormented them, but still. You gotta wonder about the sinister little chuckle that escapes my mouth when I've figured out how to really take them over the edge.
Why go there? Why pull the rug out from underneath noble, honorable loners like Mack Tanner? Why strip gracious, feisty Lana Bristow of everything that makes her comfortable? I believe the answer goes a little deeper than "because it makes great reading."
Stories of folks pushed to their limits remind us of struggle's eventual rewards. They proclaim that darkest comes before dawn, and that pain changes us in ways nothing else can. The truth is that Mack and Lana can't get together until each of them comes apart on the inside. They've got to tear down their own preconceptions and face their own fears. They've got to earn their way to the happy ending God has waiting for them.
When they do, they see the gift they are to each other. When we read stories like that, we're reminded that the dark clouds in our own lives have silver linings. Mack and Lana's journey to each other lights the way for our own adventures toward love, and toward the purpose God has for each of us that might be out of sight right now. It's why I love happy endings--it keeps the faithful optimist in me alive and kicking.
Really, I'm a very nice person. Looking at me, you'd never know I torment imaginary friends for a living. Well, at least I hope so.
Want more info about Allie's book? Here's the blurb for Yukon Wedding
:
A gold-rush town is no place for a single mother. But widow Lana Bristow won't abandon the only home her son has ever known. She'll fight to remain in Treasure Creek, Alaska—even if it means wedding Mack Tanner, the man she blames for her husband's death.

Mack sees marriage as his duty, the only way to protect his former business partner's family. Yet what starts as an obligation changes as his spoiled socialite bride proves to be a woman of strength and grace. A woman who shows Mack the only treasure he needs is her heart.
An avid knitter, coffee junkie, and devoted chocoholic, Allie Pleiter writes both fiction and non-fiction. The enthusiastic but slightly untidy mother of two, Allie spends her days writing books, buying yarn, and finding new ways to avoid housework. Allie hails from Connecticut, moved to the Midwest to attend Northwestern University, and currently lives outside Chicago, Illinois. The "dare from a friend" to begin writing has produced two parenting books, fourteen novels, and various national speaking engagements on faith, women's issues, and writing. Visit her website at www.alliepleiter.com or her knitting blog at www.DestiKNITions.blogspot.com