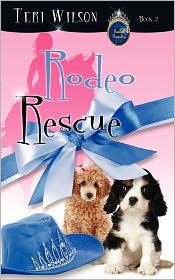 Teri Wilson rocks at writing the broken hero, men with emotional or physical scars that you wanna take home and tend to health. This is the second book I've read of hers and it pretty much ensures she will remain on my must read list in the future.
In
Rodeo Rescue
, Wilson crafted romantic tension so strong you could reach out and pluck it, then delivered one of the best first kiss scenes I've read in a while. I'm tempted to quote it here, but you should probably read it for yourself. This short book packs a huge emotional hit and if you're anything like me, you won't be able to read it without a goofy grin on your face.
Rescue
is the second in a series. It's a standalone so you don't
have
to read number one (but the first made my
top ten romances of 2010
, so why wouldn't you?). The author grounds us in the series by bringing back Josie and Luke from
Rodeo Redemption
. I only wish Josie had played a meaningful part in the story, I kinda felt like she was just filling up space. It's the only minor quibble I had with an otherwise superb book.
Want more info? Here's the book blurb:
With the ink still dry on her new veterinary license, Rodeo Queen Ruth Davis returns to Angel Springs as the new town vet. It seems her plans to save the world as a veterinary missionary are on hold. But, when her first patient arrives in the arms of battered rodeo man, Dodge Atwell, she realizes God has bigger plans than she ever dreamed possible.

The last thing Dodge wants, or needs, in his life is Ruth. Her annoying habit of quoting Scripture only serves to remind him that she's everything he's not—Pure, innocent, good.

When Dodge returns to her clinic, with yet another rescued dog, Ruth cannot help but become fascinated with the man and his scars—the physical ones there for the world to see, as well as spiritual ones she senses lurking beneath the surface.

Could the reluctant animal savior be the hero she's been waiting for all her life?
My rating:
(More like four and a half couples)