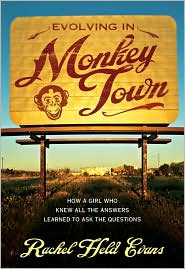 Every now and then I need the reading equivalent of smelling a bowl of coffee beans. I need something completely different to cleanse my palate. Usually I choose YA or general market fiction, or sometimes a celebrity biography, none of which gets reviewed here.
This time I picked up
Evolving in Monkey Town
by Rachel Held Evans, a memoir about a young women questioning her faith. Rachel is the type of person I'd love to chat with over coffee at Starbucks. I love her snarky self-depreciating humor. We hold remarkably similar political views. I have asked God the questions she asks.
This book is highly readable, a real page turner, and for me to say that about non fiction is pretty rare. It's the kind of book I feel compelled to get on my personal Facebook account and share with old buddies from my Christian college days.
Despite the title,
Monkey Town
has very little to do with evolution or the Scopes Monkey trials (and too bad, because that'd make a great conversation. Meet me in Starbucks one day and we'll chat).
Instead, the title comes from the evolution of Rachel's faith. Something I can
totally
relate to. She's speaking to my people. Those of us who grew up in fundamental Christian homes, whose conversion experiences were so early we barely remember them. All of us reach a point (hopefully) where we seek, and we question, and we evolve from a childlike acceptance of our faith to a mature relationship with the Almighty.
In the end, I may not accept all of Rachel's conclusions. But some of the things she said resonated soooo true, that I couldn't help but agree out loud, "yes! YES!"
Evolving in Monkey Town
was a 2010 INSPY award winner for the Creative Non Fiction category and it's easy to see why it won. You don't have to agree with everything Rachel believes to identify with the journey she's on. God Bless, Rachel Held Evans. May the Lord continue to reveal himself to you.
(I did not receive this book for review. I read it for fun, so please don't pitch me any nonfiction).
Want more info? Here's the book blurb:
Knowing all the answers isn't as important as asking the questions.

Eighty years after the Scopes Monkey Trial made a spectacle of Christian fundamentalism and brought national attention to her hometown, Rachel Held Evans faced a trial of her own when she began to have doubts about her faith. Growing up in a culture obsessed with apologetics, Evans asks questions she never thought she would ask. She learns that in order for her faith to survive in a postmodern context, it must adapt to change and evolve.

Using as an illustration her own spiritual journey from certainty, through doubt, to faith, Evans adds a unique perspective to the ongoing dialogue about postmodernism and the church that has so captivated the Christian community in recent years. In a changing cultural environment where new ideas threaten the safety and security of the faith, Evolving in Monkey Town is a fearlessly honest story of survival.
My rating: