I just discovered Denise Hunter's books last year, but she has quickly become one of my favorite authors...and you know what I do to my favorite authors. One stalking coming right up!
The last thing you threw away:
Ummm, a paper bowl? Just finished my breakfast--quinoa with cinnamon, butter, and a pinch of Splenda.
A brand of breakfast cereal in your pantry:
Bear Naked Banana Bread Granola
Three things in your purse:
Tissues, Burt's Bees Lip Shimmer (Rhubarb), and a Vera Bradley notebook--a gift from friend and author Diann Hunt
Something that'll fall out of your medicine cabinet when I open it:
Love these random questions. :-) My medicines are "organized" in Rubbermaid tubs, so nothing would technically fall out. Good luck finding anything though.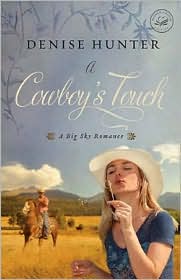 A sentence (or paragraph) from your rough draft that didn't make the novel:
My editor felt the bolded sentence below was extreme, so I cut it:
"I have a question for you," Abigail said when Reagan wrapped up her surgery summary. She lowered her voice, just in case. "You remember anything about a rodeo star named J.W. Ryan in the news several years ago?"

"Well, duh, who doesn't."

"Me?"

"If only you read the tabloids . . ."

"Spare me."

Reagan chuckled. "He was a cowboy, a total hunk, in every celeb magazine you could find. His wife died—or got murdered, depending on who you ask. There was a lot of speculation, then he just disappeared. Which, of course, made everyone suspicious."

"What do you mean disappeared?"

"I mean fell off the face of the planet. No more interviews, reporters gossiping about what happened to him and his daughter.

Some even suggested he killed himself and his daughter out of guilt, but no bodies were ever found, and I don't think anyone believed that anyway.

They were just trying to make headlines. Why the sudden interest?"
The name of every book you've ever published (so we can track 'em all down):
Oh, boy. I need more caffeine. Let's see . . . I'll start with the most recent and see how far my memory goes.
A Cowboy's Touch (A Big Sky Romance)
Driftwood Lane
(Nantucket series)
Seaside Letters
(Nantucket series)
Sweetwater Gap
The Convenient Groom
(Nantucket series)
Surrender Bay
(Nantucket series )
Finding Faith
(New Heights series 3)
Saving Grace
(New Heights series 2)
Mending Places
(New Heights series 1)
His Brother's Bride
Bittersweet Bride
Never a Bride
Stranger's Bride
I also have novellas in "Aloha", "Blind Dates" and "Reunions".
Your favorite not-quite-a-curse word:
Shoot?
One lousy job from your past:
My first job was at a donut shop.
1. I had to wake up at 4:15 am.
2. I am not a morning person.
3. I never did get tired of donuts.
What sounds might a feline stalker hear while hanging around outside your kitchen window?
Since our kitchen window is very near our laundry room, I'm afraid the sound of the washer and dryer would drown out anything else. And since we're a family of 5, they're almost always running.
What would you like to hear God say when you arrive at the Pearly Gates?
"Well done, good and faithful servant!", of course!
Denise Hunter is the best-selling author of many novels, including The Convenient Groom and Driftwood Lane. She lives in Indiana with her husband Kevin and their three sons. In 1996, Denise began her first book, a Christian romance novel, writing while her children napped. Two years later it was published, and she's been writing ever since. Her books contain a strong romantic element, and her husband Kevin says he provides all her romantic material, but Denise insists a good imagination helps too! Visit her website at www.DeniseHunterBooks.com.