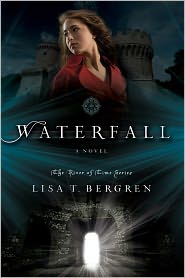 Ever since I finished reading Lisa T. Bergren's
Waterfall
, I've gushed to friends, family, bloggers, and Twitterologists about how much I loved this book. Without fail, one particular word has found its way into each and every conversation: exceptional. So without further ado, let me give you the sitch on Lisa T. Bergren's exceptional new novel.
THE SITCH:
You would think spending the summer in Italy would be a dream-come-true for a couple of American teenagers, but for Gabi and Lia Betarrini it's shaping up to be little more than an exercise in boredom. At seventeen and fifteen years old, the Betarrini sisters would love to be cruising the Italian Riviera looking for cute boys, but instead they're twiddling their thumbs in the middle of nowhere while their archaeologist mother excavates Etruscan tombs.

Against their mother's direct orders, Gabi talks her younger sister into entering one of the tombs. Though mindful of not touching any of the priceless artifacts, Gabi is inexplicably drawn to a pair of mural-like handprints on the wall of the tomb. Strangely, one print seems to be the exact size of Gabi's hand – and it is warm to her touch. The other, fits smaller Lia just as perfectly. Suddenly, the room shifts, panic sets in, and Gabi wrenches her hand away from the searing-hot print, grabbing for her sister. She falls. And Lia disappears with the light.

When Gabi emerges from the tomb alone it is dark -- and a battle rages outside. At first Gabi thinks she has stumbled onto some random Renaissance Faire reenactment, but soon she realizes the weapons are real – and men are dying in brutal ways. Although Gabi hasn't left the site of her mother's archeological dig, she has vacated its time. Somehow she has been transported to fourteenth-century Italy -- and she has no idea what has become of her sister.

When the battle is over, Gabi is taken under the protective wing of a young knight. Though not much older than herself, Marcello Forelli is not only a person of near-royal influence in the region but, in Gabi's estimation, totally and amazingly hot. Marcello takes her to his castle (suh-weet), provides suitable clothing for her, and offers to help Gabi find her sister and mother.

With the introduction of some really vile bad guys, a beautiful young woman with her eye (and claws) on Marcello, constant political turmoil, and the challenge of speaking Dante-styled Italian to a guy whose gaze turns her knees to jello, Gabi's "boring summer in Italy" takes a most interesting turn.
HOW IT HIT ME:
Like a polished, antique sword wrapped in red silk and placed gently into my hands by a really hot Italian guy who is totally into me – I think.
In other words: this story is elegant, beautiful, romantic, and historical -- but it shines with the sharp inner monologue of a modern seventeen-year-old girl's witty and often self-deprecating observations.
WHAT MADE ME SQUIRM:
Bergren made me worry about what was going to happen to the good guys. I was
worried
about them.
Really
. Worried.
My one complaint? I kept waiting for someone to fall over a waterfall, get kissed by a waterfall, or even see a waterfall -- but unless I skipped something (and I'm pretty sure I didn't) there was no waterfall anywhere. But guess what? I don't actually care that there wasn't a waterfall. Ms. Bergren gave me such a beautiful, fun story that, with sequels to be released entitled
Cascade
and
Torrent,
I have decided to trust her that it's symbolic and will make perfect sense by the time I've paddled across the last page of "The River of Time Series."
TO READ, OR NOT TO READ: THAT IS THE QUESTION:
Well,
duh
. Read it, already! With vivid characterization, a perfectly captured sense of place and time, and a clever juxtaposition between language stylizations, I believe
Waterfall
will be one of those rare novels that can hop right over the boundaries of the traditional Christian market and into the hands of any mainstream teen or adult (especially the female variety) without losing its inspirational value. It's an exceptionally written, great story. Read it
AND FINALLY, IN THE WORDS OF INIGO MONTOYA:
"No, there is too much. Let me sum up."
Through indirect metaphor and succinct moments of actualization, Lisa T. Bergren shows the mystery of a seeking heart in a fresh, lovely, and layered way.
Waterfall
was written for a teen audience, but please don't let that label keep you from reading it if you're a decade (or three) beyond that demographic. This romantic, historical fantasy is one of the best I've read. I predict this series will not only be a hit with teen girls, but will firmly ensconce itself into their mothers' hearts as well. In closing, I'll leave you with a brief warning:
Cascade
(the sequel to
Waterfall
) isn't scheduled to release until June. Sigh. It will be a most agonizing wait, but the payoff promises to be sweet.
Serena's rating:
Reviewed by contributor Serena Chase
Follow Serena Chase on Twitter @Serena_Chase