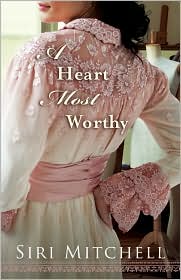 A Heart Most Worthy
by Siri Mitchell did not fit neatly into my preconceived box. I expected a romance written in standard third person point of view. What I got was women's fiction and lesson about loosening up a little bit.
Mitchell employs the omniscient narrator point of view. But she also breaks the fourth wall by speaking directly to her audience. I don't want to go all grammar on you, but so you get what I mean, here's an example of breaking the fourth wall from Charlotte Bronte's
Jane Eyre
:
"Gentle reader, may you never feel what I then felt? May your eyes never shed such stormy, scalding, heart-wrung tears as poured from mine. May you never appeal to Heaven in prayers so hopeless and so agonized as in that hour left my lips; for never may you, like me, dread to be the instrument of evil to what you wholly love" (Chapter 27).

"Reader, I married him." (The first sentence in the last chapter).
For the first quarter of the book, the point of view drove me crazy! I found the narrator's side comments distracting. Every time she addressed the reader it popped me right out of the story. Also, up to chapter eleven, there was no romance. I may have even taken to Goodreads to vent my frustrations, but you know how I love my romance!
Since Siri Mitchell comes highly recommended by some of my favorite book bloggers, I kept reading. Then something amazing happened. I stopped focusing on the point of view and got lost in the story of three Italian immigrants from very different backgrounds (it's probably no coincidence that my connection with the book occurred about the same chapter Mitchell introduced the love interests).
Pretty soon I was cheering these girls on as they made their first steps toward independence in a new world. I can measure how invested I am in a story by whether or not I forgo lunch in the teachers' faculty room to eat at my desk with the book. Yes, dear readers, this was an "eat at your desk" kind of book and I'm so glad I didn't set it down at the quarter way mark.
So I learned changing things up a little bit isn't so bad. Now I'm even more anxious to read Siri Mitchell's
She Walks in Beauty
which I'm assured has no omni narrator and comes with its four walls solidly intact.
Want more info? Here's the book blurb:
The elegance of Madame Forza's gown shop is a far cry from the downtrodden North End of Boston. Yet each day Julietta, Annamaria, and Luciana enter the world of the upper class, working on finery for the elite in society. The three beauties each long to break free of their obligations and embrace the American dream--and their chance for love. But the ways of the heart are difficult to discern at times.

Julietta is drawn to the swarthy, mysterious Angelo. Annamaria has a star-crossed encounter with the grocer's son, a man from the entirely wrong family. And through no intent of her own, Luciana catches the eye of Billy Quinn, the son of Madame Forza's most important client.

Their destinies intertwined, each harboring a secret from their families and each other, will they be found worthy of the love they seek?
You can read the first chapter here.My rating:
(Thanks to Bethany House and to Christian Fiction Blog Alliance for providing a review copy).