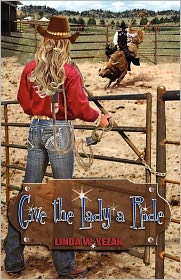 Give the Lady a Ride
by Linda Yezak definitely charmed this city slicker. I've never been on a horse, but after Yezak's debut I'm
thisclose
to saddlin' up for my own ranch and rodeo adventure (I'll have to draw the line at palpating cows, though).
She did a fantastic job including details that really brought life out west into focus. I could almost smell the joe brewing in the kitchen, and hear the characters' boot steps on plank floorboards.
This is a short, quick read- about the length of a Love Inspired novel, with charming characters and sweet romance.
Give the Lady a Ride
is certainly a ride worth taking.
Want more info? Here's the book blurb:
Patricia Talbert is a high-class social coordinator from New York.

Talon Carlson is a rugged bull rider from Texas.

He thinks she's too polished.

She thinks he's insane.

Opposites aren't quick to attract when the lady who enters the cowboy's world is on a mission to sell the ranch. But a box of letters changes her mission–letters of unshakable faith and a love deeper than anything she's ever experienced.

Soon, she finds his integrity appealing. Her spunk draws him in. He has the faith she craves; she may be the love he longs for. But faith and love aren't achieved in a single weekend.

To buy time to explore the possibilities between them, she issues a challenge: "Teach me to ride bulls."

From here on, they're in for the ride of their lives.
My rating:
It's giveaway time!
Linda visited Edgy Inspirational Romance a couple of weeks ago. Leave a comment on
her guest post
for a chance to win
Give the Lady a Ride
!