Book bloggers highlight the characters they fell in love with in My Book Boyfriend, a weekly meme from Missie at The Unread Reader.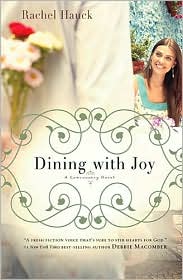 The book boyfriend that I spent my weekend with was Luke Redmond from
Dining with Joy
by Rachel Hauck.
My Book Boyfriend's Stats:
-36 Years Old
-Blue eyes
-Clean soapy fragrance
-Professional chef & restaurant owner
-His kiss "tastes like flour, vanilla, and cream, like the comforts of home at the end of a long, hard journey." p. 47
In my mind, Luke looks like:
What I love about him:
Is there anything more attractive than a man who who can cook (except maybe a man who reads)?
My favorite pick up line:
"The boys would banish you from Mars if they knew you asked me about cooking when you could've been kissing." Joy cut around him and maneuvered through the trees toward Venus. Toward safety.
"Answer the question and I'll kiss the breath right out of you."
Luke's voice lassoed her and she whirled around to face him. "I'll keep the air I breathe, thank you very much." But she found it difficult to inhale deep and fill her lungs. (p. 138-139)
What to know more about Luke's story? Here's the book blurb:
Host of a regionally syndicated cooking show, Joy Ballard has a little secret: she can't cook. But when her show is picked up by a major network and given a prime time slot, her world heats up faster than a lowcountry boil.

Enter Luke Redmond: handsome, creative, and jobless after having to declare bankruptcy of his Manhatten restaurant. When her producers ask him to co-host the show, Joy sees Luke as her way out. But Luke sees much more than just a co-host in Joy.

Their relationship begins to simmer on and off set. Until Joy's secret is revealed and her reputation is ruined on national television by her rival, Wenda Devine.

But could Devine's cruelty be a divine gift? Losing Luke--and her sister--forces Joy to consider where her worth really comes from. Could God be cooking up an even bigger adventure from the mess? And will Joy hang on long enough to find out?