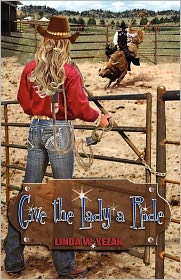 I remember being young and in love. The insecurities, the anxiety involved in awaiting the next phone call, the constant desire to see that loved one again, and the clammy palms when I did. Virtually every young man I dated holds a special place in my heart.
Not too distant in my memory is the first time I fell in the "I do" kind of love. The wedding is a whirlwind of memories swirled together with no specific favorite. The honeymoon held charm and joy, heat and passion. Don't they all?
The next three years, however, brought challenges I wasn't strong enough to overcome, and I found myself becoming a number in one of the fastest growing statistics in America: the divorce rate. A serious issue the church is learning to address. A problem many Christians face regardless of their upbringing. A shame of vow-breakage, not just to the soon-to-be-exed mate, but to God.
Because of my personal experiences, many of my heroines, both in my current release,
Give the Lady a Ride
, and my works in progress, are damaged by failed relationships. Upon their backs, they bear the consequences of making a poor choice, of acting in haste, of not taking the rose-colored glasses off before buying the wedding veil. Since my novels are light-hearted, these burdens are in the character's backstory, baggage she carries into the a romance and tosses into the dumpster when her new love wins her heart.
And he always does.
Jump ahead ten years from when I signed my name on that legal document marking my failure, and you'll see that my new love won my heart, accepted the damaged me, and after a short while, allowed me to toss the baggage in favor of a new beginning and a long-lasting, God-blessed union. This year, we'll celebrate twenty years of marriage, of love and security. Most people our ages are looking toward their fortieth anniversary, some even longer. Our past mistakes give us a slim chance of seeing our fiftieth anniversary. But our story is one of victory and joy. We found love late, but we found it.
Even through the humor of my novels, you'll see my story over and over. The scars failure leaves behind. The victory of love over pain. The joy of a match "made in heaven." Just as it says in I Cor. 13:8a, "Love never fails."
Two-time ACFW Genesis finalist Linda Yezak resides in the state of Texas, where tall tales abound and exaggeration is an art form. Aside from being a member of American Christian Fiction Writers (ACFW), she also belongs to Women Writing the West (WWW) and The Christian PEN. She lives in the heart of a forest with her husband, three cats, four ducks, and a pond full of fish.
Want to know more about Linda's book? Here's the back cover blurb:
Patricia Talbert is a high-class social coordinator from New York.

Talon Carlson is a rugged bull rider from Texas.

He thinks she's too polished.

She thinks he's insane.

Opposites aren't quick to attract when the lady who enters the cowboy's world is on a mission to sell the ranch. But a box of letters changes her mission–letters of unshakable faith and a love deeper than anything she's ever experienced.

Soon, she finds his integrity appealing. Her spunk draws him in. He has the faith she craves; she may be the love he longs for. But faith and love aren't achieved in a single weekend.

To buy time to explore the possibilities between them, she issues a challenge: "Teach me to ride bulls."

From here on, they're in for the ride of their lives.
It's giveaway time!
Leave a comment for Linda between now and March 31 to win a copy of her novel
Give the Lady a Ride
. Be sure to include your email address if it's not in your profile!