My husband and I were college sweethearts. From the beginning, it was a case of opposites attracting. He's from Africa, I'm from Long Island. He was studious...me, not so much. Sixteen years and three children later, we're still in love.
Story book romance is not his strong suit (Pbbsst! That's what novels are for). But he shows me he loves me in a million mundane little ways which are far more important.
Ten Reasons I Love my Goofball
(in no particular order):
1. He's promised to take my embarrassing secrets to the grave- including that unspeakable incident when I was carrying the twins.
2. He loves my parents as much as me (sometimes he loves them
more
than me).
3. He packs my lunch every day and cooks dinner every night.
4. He's not afraid of dirty jobs. Like holding my hair back when I vomit, changing a blowout diaper, or buying feminine products at the grocery store.
5. He loves God.
6. He will get out of the shower to come kill a spider in the bedroom.
7. He gives money to homeless people (and if he didn't have to worry about the boys or me, he'd probably offer them a room too).
8. He'll shovel the drive or mow the grass for our elderly neighbors.
9. He teaches our sons how to be men.
10. No matter how often I break out in crazy, he remains even tempered.
Want to hear more stories about real romance? Check out these
love stories from my favorite book bloggers
. Today's the last day to enter the giveaway for a $10 Amazon gift card.
Update: The winner of the gift card is Amber S!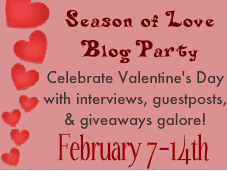 Bonus Giveaway:
Using the clues in the photo above, name that year!
I'll send a copy of Julie Lessman's
A Passion Most Pure*
to one lucky guesser. Winner will be chosen Saturday.
*The book in this giveaway comes from my personal shelf and was dropped during the recent snowpocalypse. Perfectly readable, but has wavy pages.