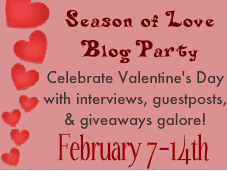 Love is in the air and there is something special cooking at a few of my favorite blogs!
Amber at
Seasons of Humility
is hosting a progressive blog party. There are giveaways and special guests. The fun starts tomorrow and you don't want to miss any of the stops.
February 7th
: Amber at
Seasons of Humility
--Interview with MaryLu Tyndall and a giveaway
February 8th:
Renee Ann at
Doorkeeper
--True-life story of love and sacrifice plus Giveaway Trifecta
February 9th:
Casey at
Writing for Christ
--Interview with Kristin Billerbeck and giveaway
February 10th:
Hannah at
Project Journal
--TBA
February 11th:
Joy at
Edgy Inspirational Romance
--Love Stories from my Favorite Book Bloggers and giveaway
February 12th:
Julia at
Dark Glass Ponderings
--Interview with Jody Hedlund; "romantic" menu of recipes from a chef!
February 13th:
Renee at
Black 'n Gold Girl's Book Spot
--Interview with Laura Frantz and a 3-surprise-Christian-fiction-books giveaway
February 14th:
Visit
Seasons of Humility
for a Mr. Linky listing of all the blogs writing a special Valentine's Day post; winners announced on the participating blogs