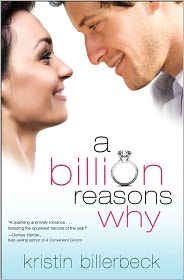 Marketing geniuses across the blogosphere have flapped a lot of jaw proclaiming that the sub genre known as "chick lit" is on its way out. When I first heard those rumors, I tore my clothes and spread ashes about my library. (Not really.) But as it turns out, these were just rumors. I am happy to announce that, while the bookstore shelves may have lost a little weight in this particular category, rumors of its demise it have been greatly exaggerated. Point in case: Kristin Billerbeck's latest novel,
A Billion Reasons Why
.
With quirky, sarcastic characters and the use of fashion as an elemental, but freshly done ingredient,
A Billion Reasons Why
will appeal to die hard fans of "chick lit" as well as the larger audience of inspirational romance readers who will appreciate the new depth Billerbeck has brought to her storytelling.
THE SITCH
Katie McKenna is about to be engaged to a practical, solid Christian man whose goals and values seem to very much line up with her own. Only one thing is keeping Katie and Dexter from making their engagement official: nobody seems to know where her grandmother's heirloom engagement ring has been hidden.
Enter Luc DeForges, Katie's gorgeous ex-boyfriend, a multi-millionaire who has his own private jet, can work a fedora better than
Neal Caffrey
at a late-night showing of
Casablanca
, and just happens to know the location of Katie's ring.
But he's not telling
. Luc has come to ask Katie to sing at his brother's 1940s-themed wedding, but what he really wants is to keep Katie from marrying the wrong man.
Katie can't forget the humiliation she received at Luc's hand years ago, but she knows that Luc is her ticket to getting her ring and she won't marry Dexter without it. With Dexter's blessing, Katie agrees to accompany Luc to the wedding in hopes of obtaining her ring.
There are a billion reasons why Katie should marry Dexter – and just as many that she shouldn't let herself fall in love with Luc DeForges again. But the more Katie is around Luc, the more she remembers the joy her life used to hold. Katie begins to question whether having a life of safety is worth giving up a life full of
life
.
HOW IT HIT ME
Like Ginger Rogers's tap heels across a polished ballroom floor: smooth, jazzy, and precise; sometimes seeming to float on air, but with enough attitude to keep my eyes glued to the page.
Kristin Billerbeck's characters skillfully sashayed through a medley of 1940s-meets-21st-Century romance with the panache of a well-choreographed dance number. A fan of 1940s song and dance myself, I appreciated Billerbeck's reference of classic lyrics and movie lines throughout the novel and felt they purveyed a classy sort of richness to this light romantic tale.
WHAT MADE ME SQUIRM
A moment of unexpected insight.
(I prefer to avoid putting spoilers in a review, so I'm going to word this carefully and turn it into a teaser, instead.)
When a particular character's one glaring deficiency among his many husband-worthy traits was revealed, I had cause to reflect and wonder upon several troubled relationships within my sphere of notice. Even after finishing the novel my mind returned to those thoughts many times in the following days. It made me a bit sad to realize how very rare (that particular trait—no spoilers!) is to find nowadays – even within the church. My hope is that all the single ladies out there will take that particular passage to heart before they say "I do." (You'll have to read the book to find out what trait that is.)
TO READ, OR NOT TO READ: THAT IS THE QUESTION
"Here's looking at you (reading it), kid."
My recommendation? Download a few Cole Porter tunes, find a good red lipstick, and curl up with this book. And if you happen by a hat display and feel compelled to buy a fedora afterward…? Well, don't be too hard on yourself.
AND FINALLY, IN THE WORDS OF INIGO MONTOYA:
"No, there is too much. Let me sum up."
A Billion Reasons Why
by Kristin Billerbeck is one sweet read. This novel is sure to fill your mind with romance, your heart with song, and your NetFlix account with classic movie rentals.
Serena's rating:
Reviewed by contributor Serena Chase
Follow Serena Chase on Twitter @Serena_Chase
It's giveaway time!
Leave a comment on this review (include your email address) between now and March 7 to win Serena's advanced review copy of
A Billion Reasons Why
. Open to residents of the US only. Winner will be emailed and announced in the comments section of this post.
Did you miss Kristin's visit to Edgy Inspirational Romance? Check out
Stalking Kristin Billerbeck.