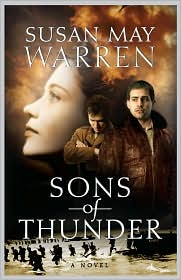 Inspy Award winning novels are books that possess exceptional literary qualities and respectfully grapple with some element of the Christian faith. The Romance/Romantic Suspense category was filled with outstanding choices and those of us on the panel found it a very difficult category to judge. We debated right down to the wire, but I'm confident we made the right decision.
Our 2010 Inspy Award winner is
Sons of Thunder
by Susan May Warren-an epic story which spans a couple of decades, and takes place on several continents. Though I don't usually care for World War II novels, the setting of this one swept me away. Warren took us from the Greek Isles to prohibition era Chicago, and back again, with enough description to make me feel like I've lived in both places.
She filled the book with rich detail, multi-layered characters, and plot twists I never saw coming. I loved how she weaved the story around historical events and actual people.
Fair warning, this is no light and fluffy read (a fact that suits this edgy christian fiction lover just fine). Warren has mastered the art of brainstorming the worst possible thing that could happen to her characters-then writing it in. These are flawed people who've drawn the short straw in life and nothing's off the table when it comes to self preservation. But resourcefulness will only get them so far. At some point each must decide if "God will deliver us" is just a platitude or a promise he can believe in.
Sons of Thunder
easily places in my top ten of 2010. It's the kind of novel that would make an excellent movie. I wonder if anyone's bought the film rights yet. Hollywood, are you listening?
Want more info? Here's the back cover blurb:
Sophie Frangos is torn between the love of two men and the promise that binds them all together. Markos Stavros loves Sophie from afar while battling his thirst for vengeance and his hunger for honor. Dino, his quiet and intelligent brother, simply wants to forget the horror that drove them from their Greek island home to start a new life in America. One of these "sons of thunder" offers a future she longs for, the other—the past she lost.

From the sultry Chicago jazz clubs of the roaring twenties to the World War II battlefields of Europe to a final showdown in a Greek island village, they'll discover betrayal, sacrifice and finally redemption. Most of all, when Sophie is forced to make her choice, she'll learn that God honors the promises made by the Sons of Thunder.
My Rating:
It's giveaway time!
I'm sending one lucky reader my copy of
Sons of Thunder
. Just leave a comment on this review between now and Sunday to let me know you're interested (be sure to include your email address if it's not in your profile). To earn extra entries, come back this week and comment on the rest of my Inspy nominee reviews.
In other news, today I am over at Hannah's blog,
Project Journal
celebrating the Christmas season with her. Be sure to check it out!