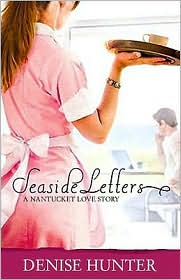 My celebration of Inspy week continues today with the next Romance/Romantic Suspense nominee,
Seaside Letters
by Denise Hunter.


Seaside Letters
was everything I want in a romance. It grabbed me from the first chapter with angst and emotion and kept me glued to my seat until the book finished some three hundred pages and a couple of hours later. I did not get up to get a drink, I did not get a snack. I did not answer my cell phone. I just sat there and read the entire novel in one sitting.
This is the kind of book that makes me LOVE romance (and yes, all caps required). The heroine was vulnerable and wary. The hero was resourceful and extremely patient. Their relationship was a cat and mouse game where the stakes rose as each chapter passed.
There is some suspension of disbelief required of the reader to get through the middle plot twists, but really, romance lovers like myself are used to suspending disbelief in order to enjoy the story (
Twilight
, anyone?).
Shout out to Denise Hunter...you've just made another slightly obsessed book blogging
stalker
...er, fan. I'll be tracking down everything you've written!
Want more info? Here's the back cover blurb:
Sabrina never intended to fall in love with Tucker McCabe, the man she serves coffee to every morning at a Nantucket cafe--especially since he's unwittingly tied to a past she deeply regrets. But she's fallen hard, though she's kept her feelings a secret.

When Tucker learns Sabrina is the research assistant for a local mystery writer, he asks Sabrina to help him with a little sleuthing of his own...locating an elusive woman he's fallen for online.

If Sabrina accepts the job, she'll spend her evenings in close proximity to a man who can never be hers. If she turns him down, he'll hire someone else--and that would be a disaster. Because if someone else sifts through all those letters and finds out the truth, Tucker will discover her secret...

That the person he's trying to find is her.
My Rating:
Don't forget, all comments count as an extra entry toward my Sons of Thunder giveaway!