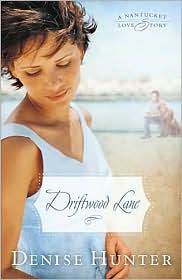 I wasn't three chapters into this book before I found myself browsing for vacation rentals in Nantucket. There is just something about The Nantucket Love Story Series series by Denise Hunter that really makes me want to visit the island.
Driftwood Lane
is the final title in the series, but only the second I've read. And though I love this author, I refuse to read the last two books (or in this case, the first two) until my feet are buried ankle deep in Nantucket sand.
Driftwood Lane
is a contemporary romance and a perfect example of why I love this genre. Take one romantic location (a bed and breakfast on an island off Cape Cod), one handsome leading man who's good with his hands (Jake- the plumber slash carpenter) then mix in a little romantic tension (there's the small matter of the heroine's fiance waiting back home) and you have the recipe for a love story that will leave your toes tingly.
Denise Hunter is definitely my favorite discovery this year and even though I'm saving her last two books for my summer vacation, I notice she has a cowboy series coming out this spring. I do love my cowboys...
Want more info? Here's the back cover blurb:
Meridith Ward has crafted a carefully ordered life to make up for the chaos that plagued her childhood years. But one phone call upsets all that. Within the span of several minutes, Meridith learns that the father who abandoned her is dead and she's been named the sole guardian of his other three children. She nervously heads to Nantucket to care for the siblings she's never met with plans to stay until their uncle returns from his trip before relinquishing guardianship to him.

She arrives to find the children living at Summer House, a Bed & Breakfast that's falling apart around them. Meridith wants to move on as soon as possible, but the inn will never sell in its dilapidated condition. Then an itinerant handyman, Jake, shows up with an offer she can't refuse.

Much like the powerful ocean just a short walk from her deck, Jake appeals to Meridith. But she senses he is also capable of pulling her under in a heartbeat. What if the thing she fears the most is exactly what she needs? Can she trust God with the details and relish the adventure?
My rating:
Thanks to
Crazy Book Tours
for my review copy.