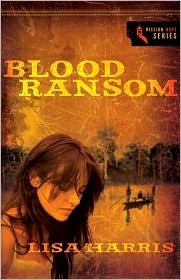 The next Inspy nominee is
Blood Ransom
by Lisa Harris.
Blood Ransom
a Christian thriller/suspense with a romantic sub-plot which makes it a genre I don't usually read and review.
I found this story about a surgeon and human aid worker caught up in a governmental conspiracy very realistic. My husband is from Africa, and though this takes place in a fictional country, I recognized authentic details and descriptions in the events and situations portrayed.
Since I'm not a fan of thrillers or suspense novels, I've enlisted the help of my friend Carman from
A Sequence of Continuous Delights
and
Christian Book Giveaways
to share her opinion:
This book is fast-paced, action-packed, and a great read. I thoroughly enjoyed this book. It really opens your eyes to a lot of things that most people never consider when living in our comfortable homes in our relatively safe country(s). The twists and turns of the plot were well written and kept me guessing until the very end. Those who love action, light romance, danger, and intricate plots will be sure to enjoy this book.
Carman's rating:
Want more info? Here's the back cover blurb:
Deep in the heart of Africa, two American lives are about to change forever. Natalie Sinclair is working to eradicate the diseases decimating whole villages in the Republic of Dhambizao when she meets Dr. Chad Talcott, a surgeon on sabbatical from a lucrative medical practice now volunteering at a small clinic.

Meanwhile, things are unraveling in Dhambizao, Joseph Komboli returns to his village to discover rebel soldiers abducting his family and friends. Those who were too old or weak to work lie motionless in the African soil. When Chad and Natalie decide to help Joseph expose this modern-day slave trade-and a high ranking political figure involved in it-disaster nips at their heels.

Where is God in the chaos? Will Chad, Natalie, and Joseph win the race against time?

Romance and adventure drive this powerful thriller about the modern day slave trade and those who dare challenge it.
Don't forget, all comments count as an extra entry toward my Sons of Thunder giveaway!