Are you ever so excited about an interview that you poke your sleeping husband and ask, "Do you know who just agreed to visit my blog?!?" Well, that was me last month when my favorite contemporary Christian romance author agreed to let me stalk her (and after I pulled a couple of her books off my shelf, DH was equally impressed).

Get your binoculars ready friends, this is Rachel Hauck...

The last thing you threw away: Papers. I'm always tracking and throwing away papers. I hate when people hand me papers - notes, information, whatever! I never know what to do with them.

A brand of breakfast cereal in your pantry: Cheerios!

Three things in your purse: Lip gloss, wallet and iPhone.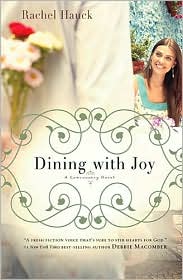 Something that will fall out of your medicine cabinet when I open it:

LOL. Nothing. I have so few things in my medicine cabinet. A sample of Mary Kay Night Cream. How's that?

A sentence from your rough draft that didn't make the novel:

From Love Lifted Me the third Songbird Novel with Sara Evans:


"All else is an illusion. Only Jesus never fails. It's just the truth. We can trust Jesus in others, but at the end of it all. He alone is true and faithful."

Jade digested the confession, feeding her heart, wanting to sustain herself on a reality she barely grasped.

The name of every book you've ever published (so we can track 'em all down):

Lambert's Pride, Lambert's Code, Lambert's Peace, Hurricane Allie in Windswept Weddings, Georgia On Her Mind, Lost in NashVegas, Diva NashVegas, Sweet Caroline, Love Starts With Elle, The Sweet By and By, Dining with Joy, and one e-book, This Time available on Amazon!

Your favorite not-quite-a-curse word: Heck.



What sounds might feline stalker hear if he was hanging around outside your kitchen window? Mostly silence. LOL. I'm not in the kitchen much.

One lousy job from your past:

Oh man, the salad girl at Quincy's Steakhouse. I usually embrace a job, no matter how much I don't like it, but I hated that job.

What would you like to hear God say when you arrive at the Pearly Gates?

Since I don't believe we're going anywhere but rather Jesus is coming here, (re: second coming) I'd like to hear Him ask me to ride with Him into Jerusalem. Isaiah 63. I'd like to see love in His eyes when He sees me because we've known each other for decades. I'd like to know what He'll want me to do for Him during his reign on the earth. So exciting!


Rachel is a best selling award winning author. She lives in central Florida with her husband and ornery pets. She loves to teach and mentor new writers. Rachel is a worship and prayer leader in her community, and serves on the Advisory Board for American Christian Fiction Writers. She is a graduate of Ohio State University and huge Buckeyes football fan!

It's giveaway time!

I haven't gotten my sticky little fingers on Dining with Joy yet, but I do have a copy of The Sweet By and By which Rachel wrote with Sara Evans (in case you haven't heard, it's November's Christian Fiction Book Club pick!). To enter, leave a comment for Rachel between now and next Wednesday and be sure to include your email address if it's not in your profile.


(Want a chance to win
Dining with Joy
and a sparkly new table top mixer? Visit

Rachel's blog

for a special contest that starts
today!)

For more with Rachel Hauck, check out this interview for Dining with Joy!